Free online magazine - Outdoor Practitioner
Free online magazine - Outdoor Practitioner
The Outdoor Practitioner is our online magazine, full of articles, ideas and activities to support you to be outdoors with your groups, packed full of contributions from real-life Outdoor Practitioners.

Issue 4, Health & Wellbeing Focus is out now - FREE to download or read online.

Scroll down to access all of our issues so far.

If you would like to contribute to the Outdoor Practitioner or reproduce one of our articles in your newsletter or magazine, email editor@muddyfaces.co.uk
Issue 4: Health & Wellbeing Focus
Winter/Spring 2022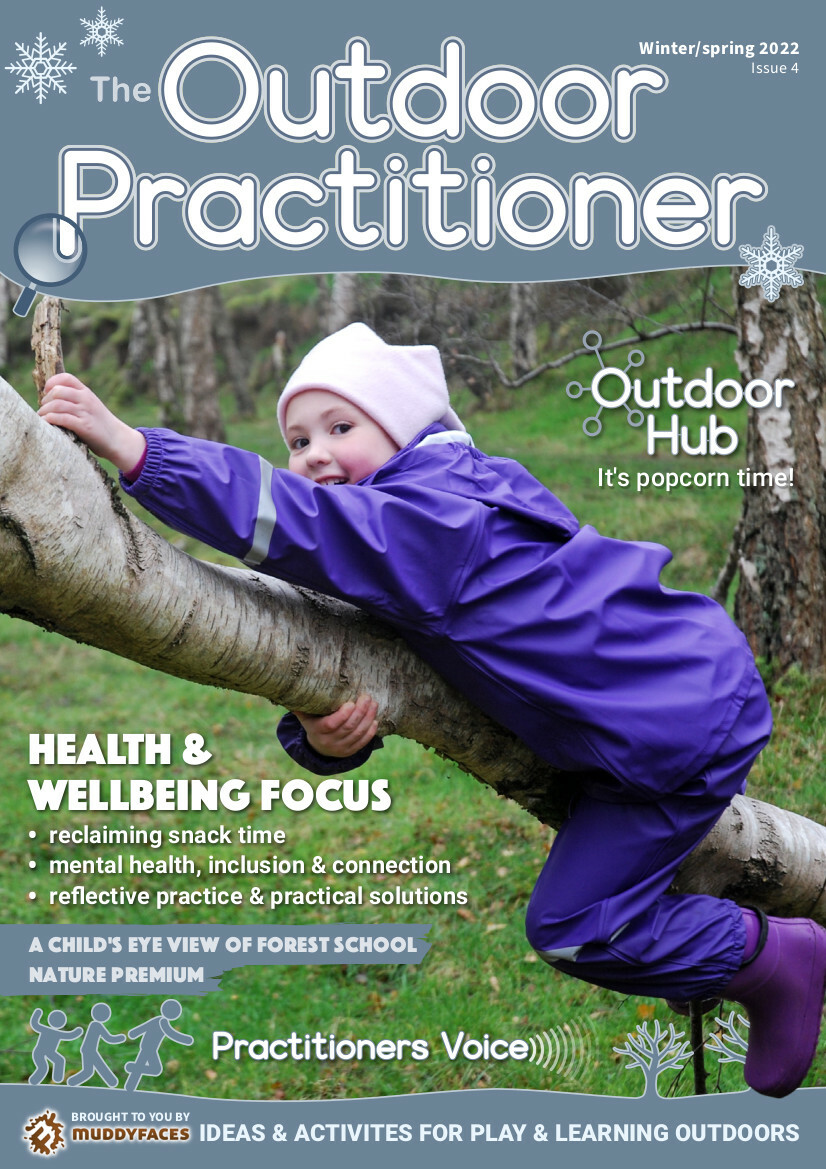 Contents
Health & Wellbeing Focus
Reclaiming snack time - the importance of comfort: exclusive article from outdoor expert Dr Mel McCree
• Building in Inclusion with WWT • Bringing Therapy outdoors - Forest School & mental health • snow day at Forest School • Talking about climate change with Learning through Landscapes • theory & practice of an outdoor programme for disadvantaged families • The healing power of gratitude • Forest bathing with Forestry England

Features
• A child's eye view of Forest School • Nature Premium update

Activities
Campfire popcorn & make your own sieve popcorn cooker
Practitioners Voice
Working with different access needs • Fiery Fox fire safety book • Project postcards - outdoor opportunities at a Brighton Primary School & a loose parts project in London
Read issue 4 here
Download issue 4 here
Issue 3: Forest School Focus
Autumn 2022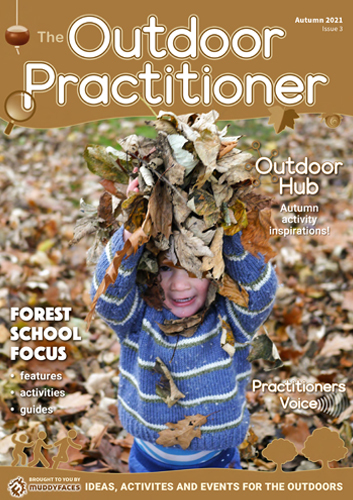 Contents
Forest School Focus
Forest School Day • Nature Connection or Nature Contact • 7 ways to deepen your connection to nature • Forest in the City - Forest School in an urban setting • Forest School Stories - overcoming an arson attack • 6 Forest School Principles
Activities
Whittle your own hazel knife • Square lashing • Autumn inspirations • Leaf needle felting • Autumn hanging mobile
Guides
Fascinating Fungi with the British Mycological Society • Storm Kettles

Practitioners Voice
Reflecting on access to nature programmes & Forest School • Letters from projects in Edinburgh & Croydon • Book review: Creating A Forest School – from the roots up! • Outdoor Ed Chat - join the online discussion
Read issue 3 here
Download issue 3 here
Issue 2: Hand Washing focus
Summer 2021
Contents
Features
The Natural Play Principles from Professor Jan White
Hand Washing focus
Embedding outdoor play training in Early Childhood courses at Glasgow Clyde College
Activities
Sun prints - bunting & cyanotype prints
How to make a foot operated soap dispenser from Richard Irvine
Nature Chatterbox from the National Trust
Tree ID - the oak
Contributors
Learning Through Landscapes (LtL) - overcoming outdoor learning barriers at Grand-y-Care, Scotland
Council for Learning Outside the Classroom (CLOtC) - 5 top tips for learning outside the classroom
Forest School Association (FSA) - the Forest School Provider programme
National Forest - Creating a Forest for Learning
Thrive Outdoors - supporting Scotland's children to grow, play & learn outdoors
Read issue 2 here
Download issue 2 here
Issue 1: Outdoor Clothing Focus
Spring 2021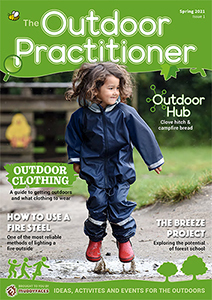 Contents
Features
Outdoor Clothing focus
The Breeze Project, Newcastle - impacting young people's wellbeing through Forest School
Outdoor case study: Milford Pre School, Hampshire
Activities
Fire - how to choose & use a fire steel
Campfire cooking - campfire bread on a stick
Bushcraft knots - clove hitch
Contributors
National Association for Environmental Education (NAEE)
National Trust - 50 things to do before you're 11 ¾ & Ways to Have a Mini Adventure
Sheffield & Rotherham Wildlife Trust
Read issue 1 here
Download issue 1 here
Return to top