Woodwork & learning
Woodwork in the early years expert Pete Woodhouse explores the learning that can come from working with wood.
Woodwork & learning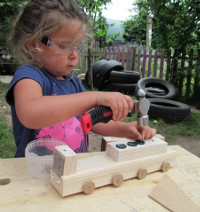 When we analyse a woodworking session it is extraordinary to see just how much learning is involved. It encompasses all areas of learning and development and invites connections between different aspects of learning. It supports current thinking on how children learn best, embracing all the characteristics of effective learning and thus fostering confident, creative children with passion for life-long learning. Woodwork really can be central to curriculum. It incorporates mathematical thinking, scientific investigation, developing knowledge of technology, a deepening understanding of the world, as well as physical development and coordination, communication and language, and personal and social development.
Woodwork provides another media through which children can express themselves. Creative and critical thinking skills are central both in terms of imagination and problem-solving as children make choices, find solutions, learn through trial and error and reflect on their work.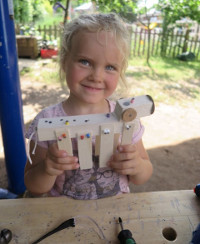 Children are drawn in as they explore possibilities, rise to challenges and find solutions. Woodwork is really unrivalled in terms of providing children with problem solving opportunities and challenge. Because children follow their interests, making what they want to make, they have the intrinsic motivation to persevere to resolve problems and learn from mistakes.
Some children particularly flourish when working with wood, enjoying working three-dimensionally and working with their hands. It is hard to predict who will respond particularly positively as the skills are so different from those usually used in early years. The experience of woodwork can really be the key that unlocks some children's learning.
Essentially woodwork is a 'win-win': children greatly enjoy it and remain engaged for extended periods and it provides a rich multitude of associated learning and development.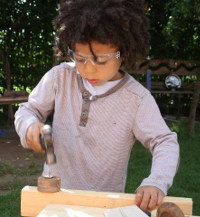 Children are surrounded by complex technology but this has limited their experience of basic technology, with fewer opportunities to watch and learn and to understand processes. Today many children may never use tools throughout their entire education and in recent years there has been a marked decline of woodwork in elementary and high schools.
The confidence to work with tools provides a skill set for life. Many children will need practical skills for their future work and woodwork in the early years could well be children's only experience of working with tools. Fortunately working with tools leaves a deep memory – so even if early childhood education is their only experience of working with wood it will leave a long lasting impression. Many adults recount that experiencing woodwork as a child is one of the memories from early childhood that still really stands out.
Return to top