INSPIRATIONS - Fire
A selection of our fire guides & activities - for inspiration & confidence to bring fire to your setting.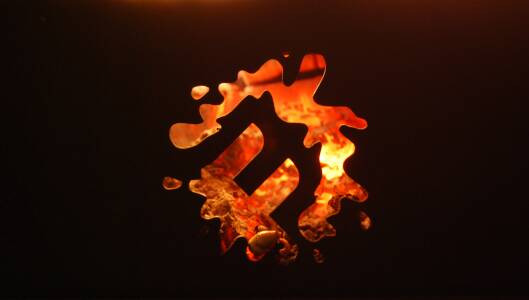 Introduction
Welcome to Muddy Faces Inspirations: bringing together activities & ideas with a specific theme, to inspire your time outdoors playing, learning & connecting with nature. Follow the highlighted links to take you to our step-by-step activity guides.
---
From the basics of choosing your site, building your fire and how to light it, to cooking and crafting round the campfire, here's a selection of fire-based activities to inspire your time outdoors.
What you'll need
This activity has been provided by

Useful items from our shop
Item available from our shop
Environmental Considerations
Consider the environmental impact of preparing, carrying out & completing this activity. Could this impact be reduced? Specific considerations for this activity could include:
Health & Safety Considerations
Follow your usual operating procedures and carry out appropriate risk benefit assessments.
Some considerations particular to this activity include:

Please note – each individual activity has its own health and safety considerations and will need your own assessment.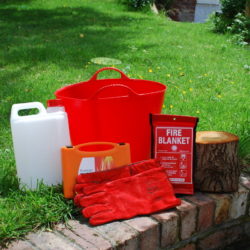 Fire Safety

See our guide to fire safety for the essentials of fire safety.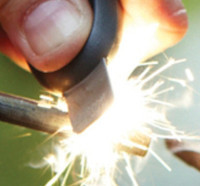 Fire lighting
There are a huge variety of fire lighting methods, from steel rods to traditional techniques like the flint and steel.
Check out our guide to the pros and cons of the main methods of fire ignition.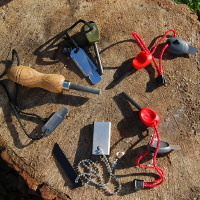 Modern and traditional fire lighting
To learn how to use a ferrous rod fire steel, including our Dragons Sneeze, go to our how to use a fire steel activity.
To have a go at a more traditional method, check out our guide to using a traditional flint and steel.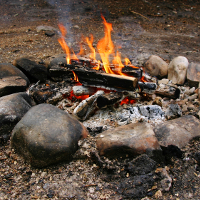 Practical Guides:

We have a range of other practical guides to prepare for, build and light a fire: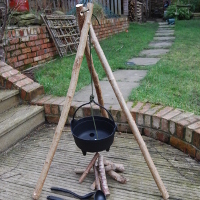 Campfire role play
A campfire role play area is a great enhancement to an outdoor or indoor area. See what the children can create in the way of potions and stews, provide some recipe cards or sit around the fire for a chat or maybe a campfire sing-along.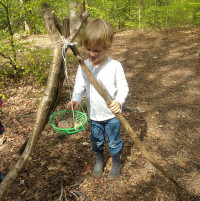 … follow our instructions to make your own campfire play set.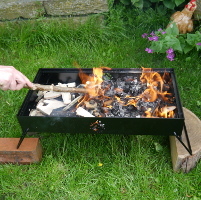 Cooking and baking
Most campfire cooking needs to done on a bed of hot embers.
Follow our instructions on how to build a fire for cooking on.
Here are a few ideas and recipes to get you started.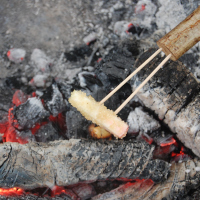 Perfect for pronging fruit or sweet treats.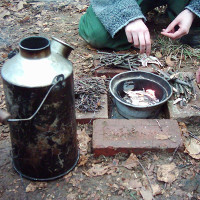 Fancy a hot drink with your snacks? Here's our step-by-step to using a storm kettle.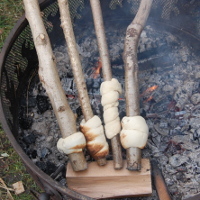 Freshly baked bread tastes even better on a fire! A quick and easy recipe for everyone to enjoy.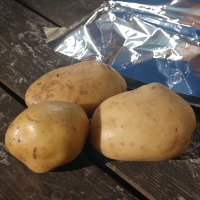 You can't beat a tasty baked potato to eat in front of the fire.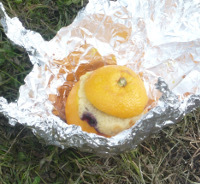 If you fancy something a bit sweeter try these tasty cakes.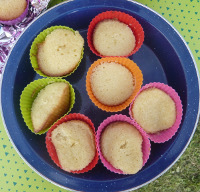 Another deliciously sweet treat to try!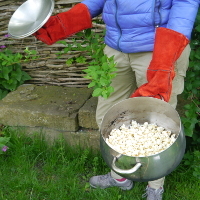 Popcorn
Cooking popcorn over a fire is a poptastic activity! Try cooking it in a pan or make your own sieve popcorn cooker and cook it in sieves.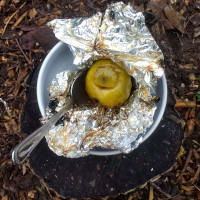 Simply wrap your cooker in foil and tuck it into the embers. Or core it and stuff with mixed fruit, butter, sugar and spice.
Campfire crafting
Get creative and crafty around the campfire with these fire-related activities.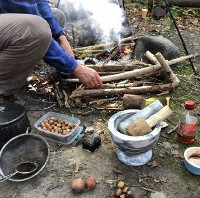 Make ink with the four elements.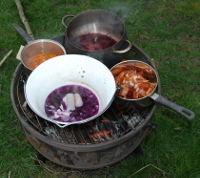 learn how to dye cloth with fruit, vegetables, nuts, coffee and tea.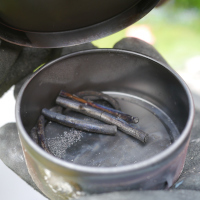 Learn how to make your own charcoal and elder charcoal pencils.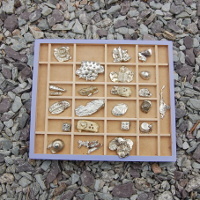 Pewter jewellery
By making a mould and then casting over a fire you can create some beautiful pieces.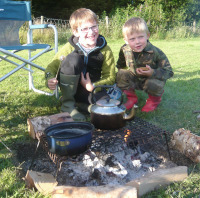 Wellbeing
Sitting around a fire is a wonderfully therapeutic and sensory experience; just watching the flames and feeling the warmth from the fire feels timeless and cosy. Obviously you need to move occasionally if the smoke blows in your face!
Having a focal point helps to ease people into conversation.
Sitting around fires is great for storytelling and singing too.
Disclaimer: Muddy Faces cannot take any responsibility for accidents or damage that occurs as a result of following this activity.You are responsible for making sure the activity is conducted safely.