How to make char cloth
Make your own char cloth to use with flint and steel fire lighting – it is super quick and easy to do.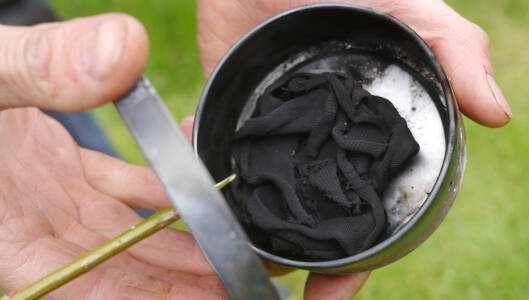 Introduction
Char cloth (or charcloth) is used for making fires. It is a piece of fabric made from vegetable fibres (cotton, jute or linen). The material is converted via pyrolysis. It creates a slow-burning fuel which requires a relatively low temperature for ignition.
If the char cloth has been produced correctly it can be ignited by a single spark and is commonly used with a flint and steel or fire pistons. By blowing on the hot ember on the char cloth it can be used to ignite tinder to start a fire.
What you'll need
fire burnt down to embers (see fires: building a cooking fire)
cut pieces of fabric made from vegetable fibres such as cotton, jute or linen
airtight lid and tin (a travel sweet tin is a good size)
fire gloves and tongs
This activity has been provided by

Useful items from our shop
Item available from our shop
Environmental Considerations
Consider the environmental impact of preparing, carrying out & completing this activity. Could this impact be reduced? Specific considerations for this activity could include:
re-use old cotton items
fire pit considerations
Health & Safety Considerations
Follow your usual operating procedures and carry out appropriate risk benefit assessments.
Some considerations particular to this activity include:
fire safety (this activity needs to be done in a well ventilated space)
handling hot objects
char cloth has a low ignition point and is light so take care in in windy conditions that it doesn't blow away (fire risk)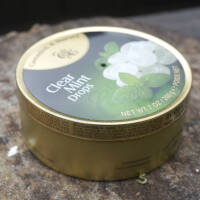 Step #1
Light your campfire and let it burn down to embers.
Prepare a tin that is big enough to fit your pieces of green wood in (a used travel sweet tin is a good size). Make a hole in the tin by hammering a nail through the lid.
Tip: to make the hole place the lid on a small block of wood. Hammer the nail through the lid into the wood then pull apart; this will stop the lid deforming.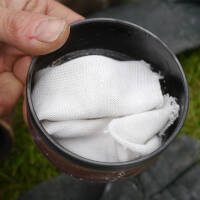 Step #2
Cut up small pieces of cloth (needs to be 100% cotton). We used an old cardigan but pieces of jean material work well too.
Loosely fold then place the pieces of fabric into the tin.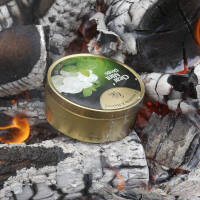 Step #3
Put the lid on the tin.
Place the tin into the embers of the fire.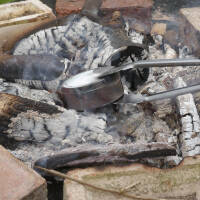 Step #4
White smoke will begin to come out of the hole in the lid; this will change to a vapour which will then be seen as a flame.
When the flaming has stopped remove the tin from the fire using fire gloves or tongs.
Plug the hole with a nail or similar to prevent oxygen entering the tin (optional).
Leave the tin to cool.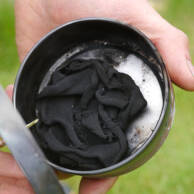 Step #5
Remove the lid and check out your char cloth. This can be kept in the tin ready for some fire lighting.
Take it further: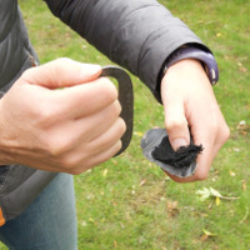 Disclaimer: Muddy Faces cannot take any responsibility for accidents or damage that occurs as a result of following this activity.You are responsible for making sure the activity is conducted safely.