Fires: fire safety guide
A guide to the essentials of fire safety.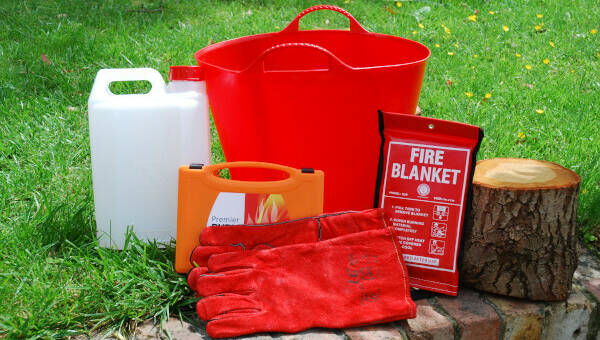 Introduction
This guide provide some essential fire safety points to consider with any fire activity. The main points discussed are:
procedures
location
training
emergency equipment
materials
What you'll need
This activity has been provided by

Useful items from our shop
Item available from our shop
Environmental Considerations
Consider the environmental impact of preparing, carrying out & completing this activity. Could this impact be reduced? Specific considerations for this activity could include:
Health & Safety Considerations
Follow your usual operating procedures and carry out appropriate risk benefit assessments.
Some considerations particular to this activity include:
Procedures:
It is essential that you include the following points in your operating policies and procedures. It may be appropriate to include other points as well – these are our recommendations but you need to make your own assessments relevant to your setting.
Risk benefit assessment
exiting site – with particular consideration of an emergency situation
site – check under and around the site, including proximity to trees and overhanging branches
group – nature/size/ability of group
daily assessment procedure; site, weather and group.
Emergency action plan
if ground around fire ignites
if someone ignites
if kit and equipment ignites.
Safety around the fire:
hair tied back and tucked in and loose clothing secured
most outdoor clothes are made with different plastics; consider the flammability of clothing (plastic and nylons) to be worn next to the fire
everybody working with fire needs to have had appropriate information, instruction & training
floating embers of burned paper or leaves are easily carried off by rising hot air and can land on other objects and potentially ignite them (paper can be scrunched up to reduce this hazard).
Extinguishing the fire:
It is important to have considered how the fire is to be extinguished, especially if time is short at the end of a session, in particular to prevent underground fires.
For more detailed information see our activity: how to extinguish a fire.
First aid and contacting emergency services
Every organisation or group should have these procedures in place.
Location: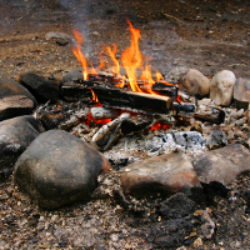 ensure the correct space has been chosen and prepared (see our fire area preparation guide)
light fires in a safe and approved fire pit area (see fire pit designs) and ensure you have permission to light fires at the site
consider anything overhanging the site
explore the materials under the fire and check it for its ability to transmit underground fires (more information can be found in the fire area preparation guide)
consider building a wind break
in very dry situations consider using a raised pit or pouring water on the ground around the fire prior to lighting a fire.
Training:
Ensure appropriate training is given in case of an emergency.
All participants must be clear about the behaviour required around the fire circle.
Emergency equipment: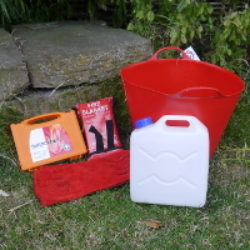 Ensure all safety kit is in a specified location close to hand, and that all participants know where it is and how to access and use it.

You will need:
emergency clean water – to pour over burns to cool
burns first aid kit – including dressings and cooling gels
fire blanket – to smother an out of control fire or person on fire
bucket of soil or sand – to extinguish fires.
Run mini training sessions with the different items of safety kit so both the adults and children know what to do in an emergency.
Hopefully you will have plenty of water left at the end of each session, which can be used as part of the fire extinguishing procedures.
Check out the Muddy Faces shop to see our range of fire safety accessories and kits.
Protective equipment – fire gloves: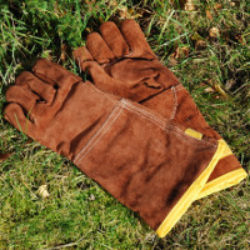 Welding gauntlets are popular to use as protective equipment around a campfire.
There are also heat resistant fire gloves available that are more expensive. Heat resistant fire gloves have the flame resistant leather outer and a heat resistant liner.
The disadvantages of all leather gloves are that if the leather becomes wet the water in them can heat up and travel through the glove to scold the wearer, also they are often only available in large sizes, making them cumbersome. If anyone knows of any smaller flame and/or heat resistant gloves then please let us know.
Flammable materials:
Ensure the correct materials are used for fuel and any flammables are kept away from the fire.
Disclaimer: Muddy Faces cannot take any responsibility for accidents or damage that occurs as a result of following this activity.You are responsible for making sure the activity is conducted safely.