INSPIRATIONS - conkers
A great collection of autumn activities using the wonderful conker. Suitable for early years and older children.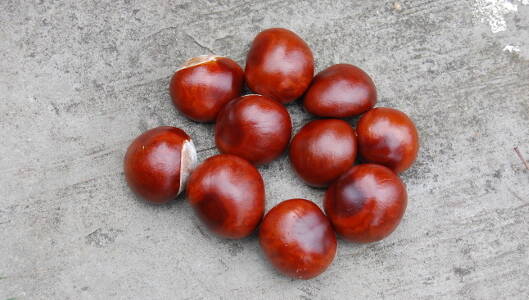 Introduction
Welcome to Muddy Faces Inspirations: bringing together activities & ideas with a specific theme, to inspire your time outdoors playing, learning & connecting with nature. Follow the highlighted links to take you to our step-by-step activity guides.
---
The conker is one of autumn's treasures! They look beautiful and feel so smooth. We have gathered some conker information and some conker activities in this insprational page for you to enjoy. Collect some conkers and off you go!
A selection of ideas and resources to kick start and complement your child-led conker activities.
This activity has been provided by

Environmental Considerations
Consider the environmental impact of preparing, carrying out & completing this activity. Could this impact be reduced? Specific considerations for this activity could include:
ideally collect conkers that will mainly fall onto the ground where they are unlikely to grow, such as paths, roads
assess how abundant you feel the source is
look at our Tips for foraging.
many of your conkers could be returned back to where you found them after you have finished playing with them
Health & Safety Considerations
Follow your usual operating procedures and carry out appropriate risk benefit assessments.
Some considerations particular to this activity include:
collecting natural materials
What is a conker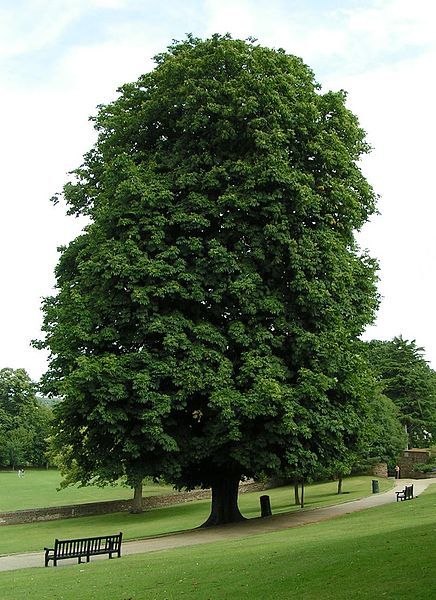 Conker is the name used to refer to the fruit of the horse chestnut tree (aesculus hippocastanum). Often these trees grow to 25m tall, with a massive domed crown. The bark, grey in colour, is interesting and often flakes away in large pieces. Its limbs look twisted and can snap off when large.
Leaves are large, up to 25cm long, stalked and composed of up to 7 leaflets.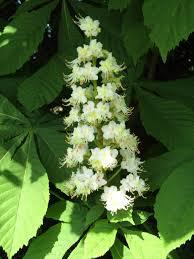 Horse chestnuts have large creamy-white blooms in the spring which are popular with insects, particularly bees. They are followed by spiky green seedpods developing over the summer, then in the autumn have shiny brown conkers bursting out of the seedpods which have turned from green to yellow and brown.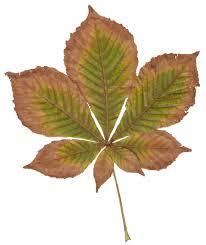 Horse chestnuts arrived in the UK in the late 16th century and there are now a couple of million trees in the UK. Almost half are infected by an invasive moth larvae know as the horse chestnut leaf miner. They burrow into the leaf turning the leaf brown and effecting the amount of food the tree can absorb by burrowing into and damaging the leaves.
Conker Observations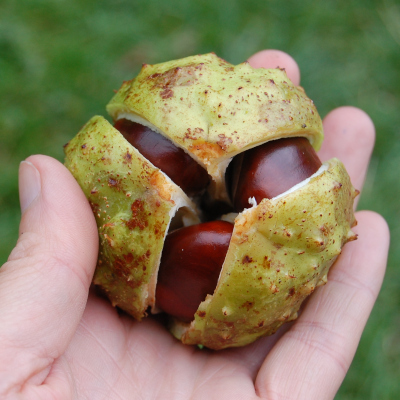 Get up Close

Use magnifying glasses to explore the beautiful patterns on the conker shell – follow the swirls and watch how the light reflects. Inspiration for poems and pictures?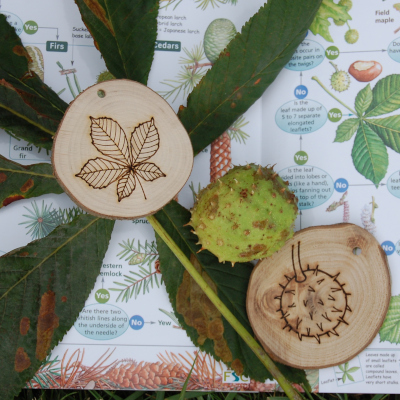 Go on a tree ID Walk
Explore the differences between sweet chestnut and horse chestnut trees and fruits.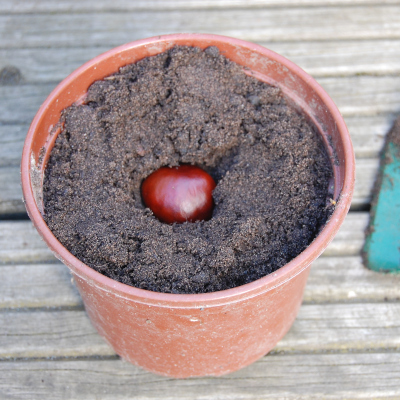 Support the population of horse chestnut trees and help to ensure plenty of conkers for future generations.
Creative Conkers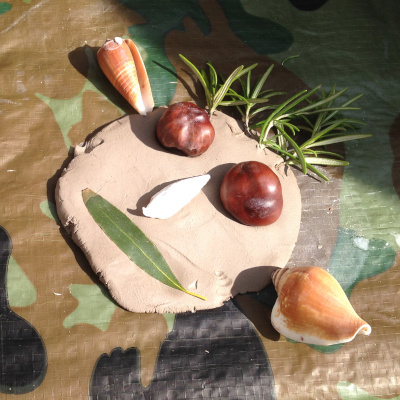 Conkers & Clay
Have fun with clay and natural materials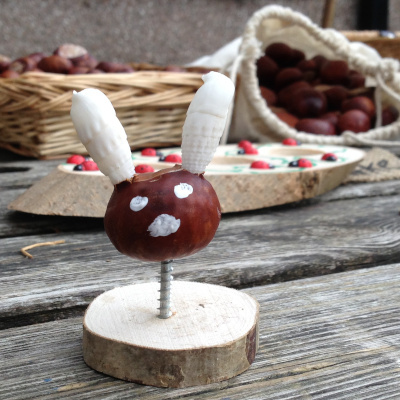 Conkers and Wood
Add conkers to your wood work area.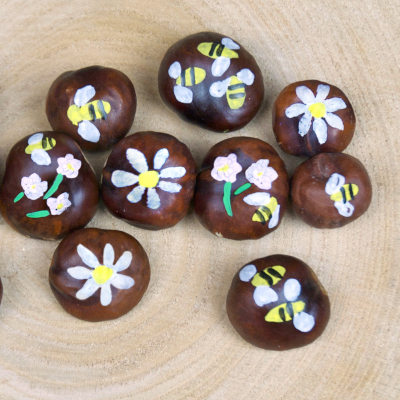 Conkers and Paint
Have fun with pictures and letters!
Conker Maths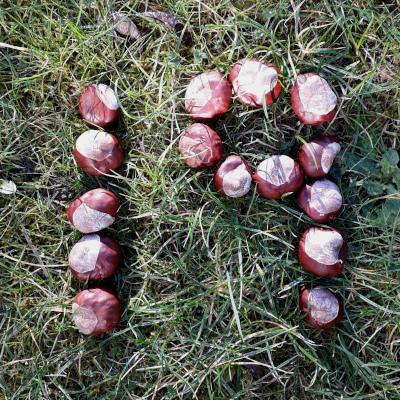 Make a numeral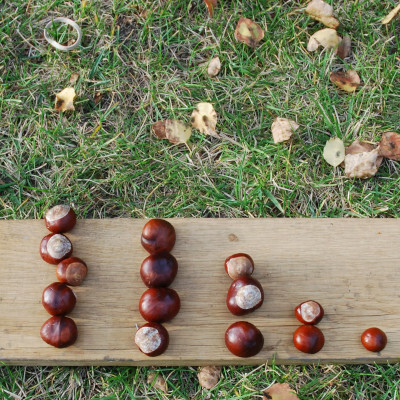 Conkers 1-5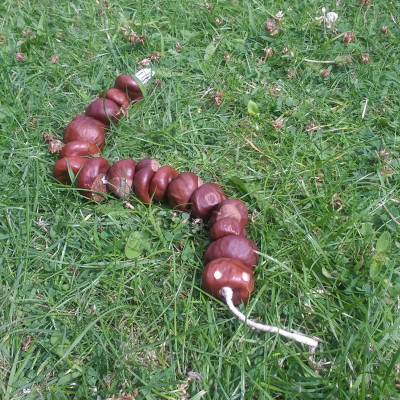 Conker-Bead String
Fab fine-motor threading activity too.
Some other Conker ideas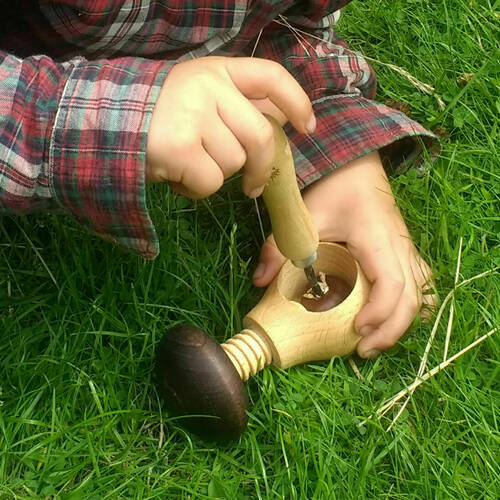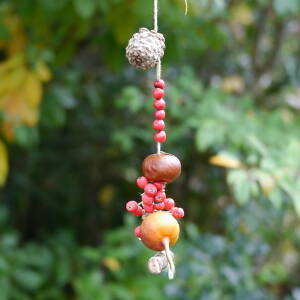 Autumn hanging mobile
A simple autumnal activity to remind you of the season and all its glorious colours. Slightly different technique to our leaf mobile.
Read More

about Autumn hanging mobile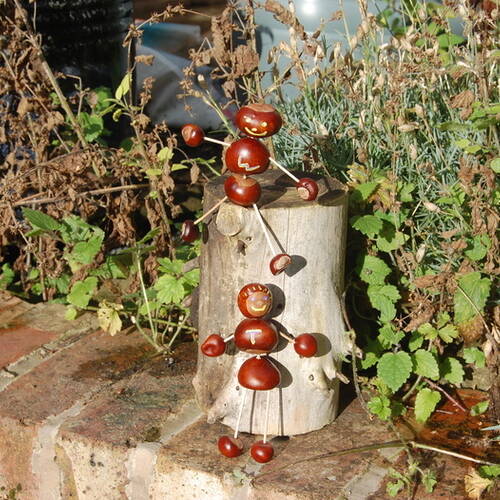 Some of your ideas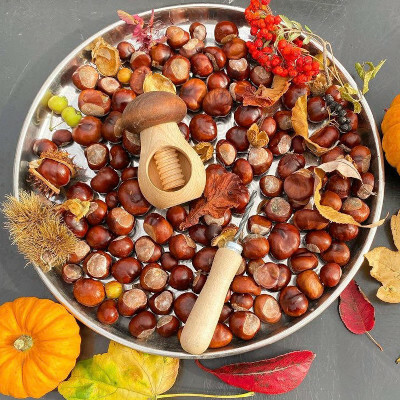 A tempting bowl of conkers to drill @earlyyearsoutdoor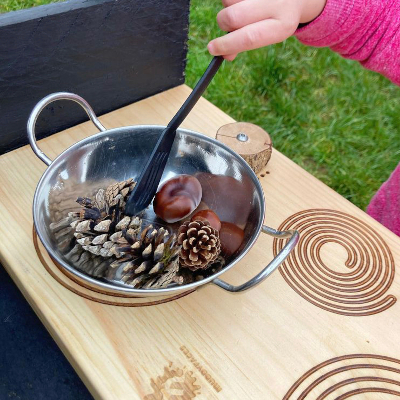 A perfect addition to any mud kitchen @hummingbirdsatplay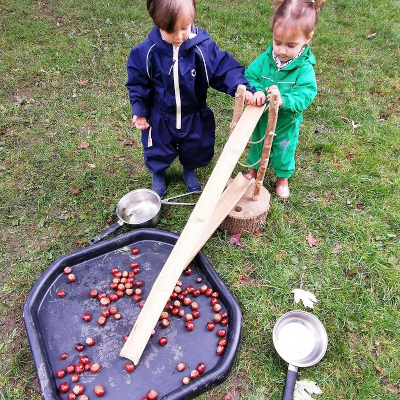 Have fun rolling! @playfulpenguins
In our shop
£16.99 exVAT
Conker drilling is a fun autumn activity and this set contains all you need to take part. The set comprises a sturdy conker clamp to keep the conker in place whilst drilling, a set of 3 different sized softwood hand drills to ...
Buy now
£6.99 exVAT
This Conker Clamp holds conkers in place to enable you to drill holes in them. It can also be used as a nutcracker.
Buy now
Disclaimer: Muddy Faces cannot take any responsibility for accidents or damage that occurs as a result of following this activity.You are responsible for making sure the activity is conducted safely.
Key Features
Age Range All Ages
Duration All Day
Location Park / Green space
Season Autumn
Time of Day Anytime