INSPIRATIONS - Apples
A tasty seasonal delight and much more...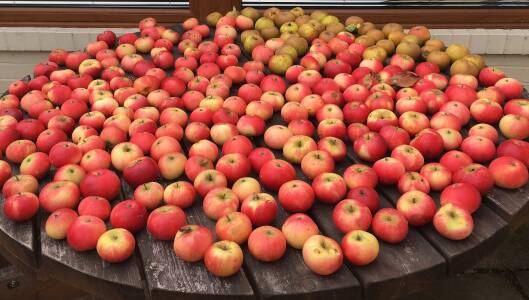 Introduction
Hand-picked apples taste so much nicer that the ones you get from a supermarket. If you are lucky you might have access to an apple tree in your garden or the garden of a relative. You can sometimes find apple trees on the street, or hidden orchards in community spaces. Look out for people leaving a box of apples outside their house for you to take.
---
Welcome to Muddy Faces Inspirations - bringing together activities & ideas with a specific theme, to inspire your time outdoors playing, learning & connecting with nature. Keep an eye out for highlighted links taking you to our step-by-step activity guides.
Key Features
Age Range

All Ages

Duration

1 - 2 Hours

Location

Anywhere

Season

Autumn

Time of Day

Anytime

Categories:

Inspirations

Useful items from our shop
Item available from our shop
Environmental Considerations
Consider the environmental impact of preparing, carrying out & completing this activity. Could this impact be reduced? Specific considerations for this activity could include:
seek land owners permission
compost rotten apples
Health & Safety Considerations
Follow your usual operating procedures and carry out appropriate risk benefit assessments.
Some considerations particular to this activity include:
wash apples before eating
This activity has been provided by

Apple Inspirations: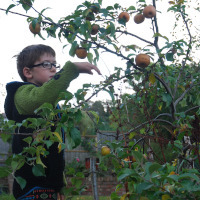 Collecting
Working together to collect apples is great fun. Sometimes windfalls are still okay to eat.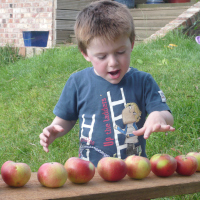 Counting & sorting
Once you have picked the apples you can count them and sort them. Are they different varieties/colours/shapes?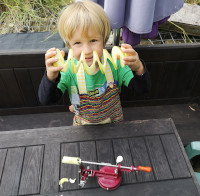 Apple peeling machine

It's so much fun to use this tool that turns an apple into a spiral apple and has the option to take the skin off too. It is a really fun way to eat an apple!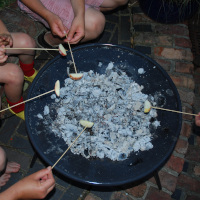 Toasted apple
Cut up pieces of apple and toast them like marshmallows, dip them in sugar for an extra sweet caramelised treat.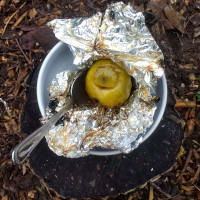 Try filling an apple with tasty ingredients and bake it on a campfire.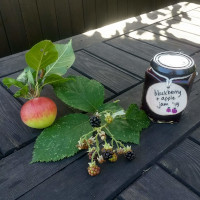 Apple recipes:
apple crumble
simply stewed - great with an autumn morning porridge (you can stew eating apples - they keep their shape and don't mush like cookers)
Exploring apples
Using magnifiers, have a really close look at the skin, pips and the details when an apple is cut in half. Observe the changes as the apple discolours.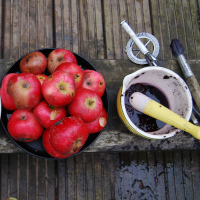 Windfalls
Compost your windfalls or use them as a seasonal ingredient for your mud kitchen!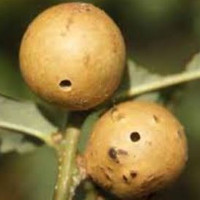 Oak apples/oak gall
Look out for oak apples; they look like little crab apples but the oak leaves help you with identifying it as an oak apple.
If you want to use an oak apple try out the making ink activity.
Disclaimer: Muddy Faces cannot take any responsibility for accidents or damage that occurs as a result of following this activity.You are responsible for making sure the activity is conducted safely.