Blackberry & apple jam
Mmmm... what's not to like?! A traditional jam recipe for foraged fruits.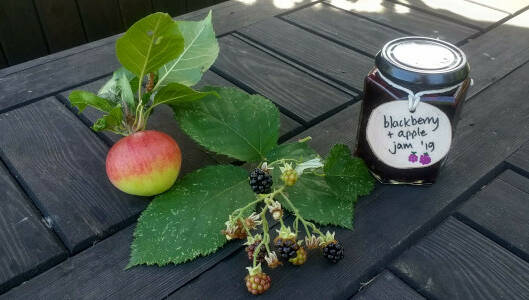 Introduction
Blackberry and apple jam is a perfect foraging jam to make in late July and into September, when both fruits are in season. You need the combination of fruit as the apples contain pectin which is needed for the jam to set.
What you'll need
collecting containers
large pan
wooden spoon
heat source
(see ingredients)
This activity has been provided by

Useful items from our shop
Item available from our shop
Environmental Considerations
Consider the environmental impact of preparing, carrying out & completing this activity. Could this impact be reduced? Specific considerations for this activity could include:
Health & Safety Considerations
Follow your usual operating procedures and carry out appropriate risk benefit assessments.
Some considerations particular to this activity include:
handling hot food
prickles from blackberry thorns (wear long sleeves and suitable footwear)
Preparation: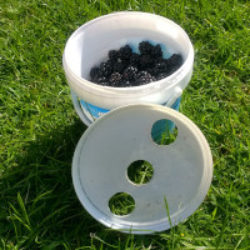 If you are planning to go foraging for blackberries then it is advisable to wear long sleeves and trousers for protection against the thorns. Another tip is to find a stick to hook down any branches just out of reach (or use a litter picker). Heavy duty rigger gloves are useful too for moving branches out of the way.
Our favourite tip is to make a collecting pot with holes in the lid! It's a design we put into practise after a few incidents with small children tripping over with a pot full!
Ingredients:
900g blackberries, gently rinsed
120ml water
340g sour apples (peeled, cored and sliced)
1.36kg sugar
This is a tried and tested recipe taken from an old Ministry of Agriculture, Fisheries and Food 1940's publication: 'The ABC of Preserving'.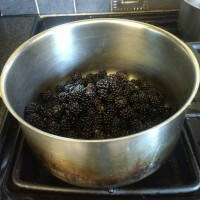 Step #1
Put blackberries in the pan with 60ml of water.
Stew over a low heat until tender.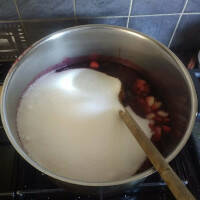 Step #2
Either use a new pan or put the blackberries into a dish and re-use the same pan.
Stew the apples until soft, with 60ml of water.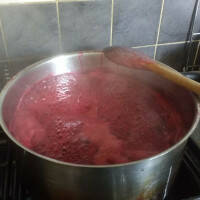 Step #3
Combine the fruit and add the sugar.
Stir until dissolved then boil rapidly until setting point is reached. This will take around 30 mins.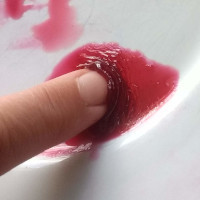 Tip: To check setting point - after 15-20 minutes of boiling take a teaspoon of the boiling fruit/sugar and plop it onto a saucer. Put the saucer into the freezer for a few minutes. Remove from the freezer and push your finger up into the jam. Setting point has been reached when you see a wrinkle in the jam skin.
Step #4
While you are waiting for setting point get your jars ready.
Wash the jars and the lids in hot soapy water (remove old labels).
Rinse and then place upside down on a shelf in the oven (not plastic lids).
Put the oven on the lowest setting and leave the jars in until you are ready to pour the jam in.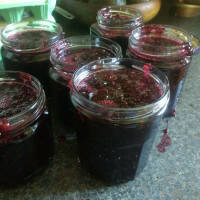 Step #5
Once setting point is reached remove jars from the oven and pour or ladle the jam into the jars.
Place lids on the jars (use a tea towel to grip the jar and lid as they will be hot).
Take it further: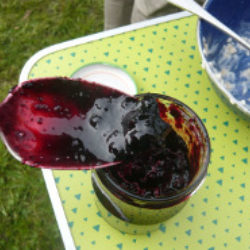 have fun creating beautiful labels for your jams, and maybe add a gift tag. You could write them using mushed up fruit ink
if you don't fancy making jam you could make a crumble or stew the blackberries with a bit of sugar
ff you enjoyed the jam-making try our bilberry jam recipe.
Disclaimer: Muddy Faces cannot take any responsibility for accidents or damage that occurs as a result of following this activity.You are responsible for making sure the activity is conducted safely.
Key Features
Age Range All Ages
Duration 1 - 2 Hours
Location Anywhere
Season Summer
Time of Day Daylight
Categories: Food Outdoors
foraging