Bilberry jam recipe
This foraged-berries jam recipe works well over a campfire or back at home.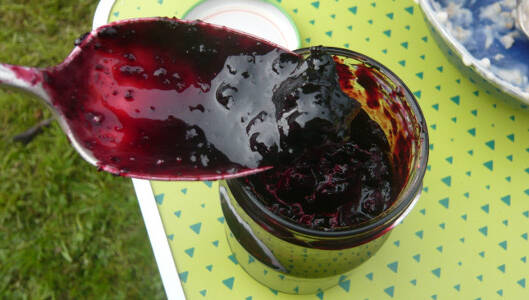 Introduction
The bilberry is tarter in taste, smaller and more rounded than the blueberry. Take a look at our foraging for bilberries & wellbeing post for more about these berries and how we collected them.
Useful items from our shop
Item available from our shop
Environmental Considerations
Consider the environmental impact of preparing, carrying out & completing this activity. Could this impact be reduced? Specific considerations for this activity could include:
Health & Safety Considerations
Follow your usual operating procedures and carry out appropriate risk benefit assessments.
Some considerations particular to this activity include:
What you'll need
campfire/heat source
large pan
wooden spoon
ingredients
jam jars

This activity has been provided by

Ingredients:
750g bilberries
750g sugar
1 large lemon
75ml of water
110ml liquid pectin

(nb When we made this jam it was a spontaneous idea - as we had not planned to make jam we didn't have any pectin with us. We were making campfire cakes baked in oranges so we used some of the juice from the hollowed out oranges instead of lemon juice. Despite not sticking to a recipe the jam still worked out fine.)
Preparation:
Gather your equipment.
Jam jars - we suggest you start collecting and cleaning jars a few weeks in advance of the activity so you have enough, or ask each member of your group to bring one in. Small ones are ideal if you are working with a large group and want everyone to take some home.

Pan - you need a deep, heavy-based pan. We've listed the enamel stew pot pictured – though not designed for jam-making, it's really versatile.
Wooden spoon - a long one is ideal, to keep hands away from the heat.
Heat protection - you'll need a hook, fire gloves or oven mitt to pick the pan up off the fire, and a suitable place to stand the pot when its not on the fire.
For cooking - light your campfire or fire pit if outdoors. The recipe can also be made indoors on the hob.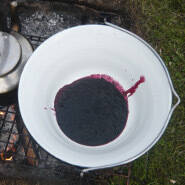 Step #1
Put the berries and water in a pan and heat gently, keeping the pan away from very hot flames or embers. Stir occasionally until the berries form a pulp.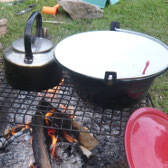 Step #2
Add the sugar and heat slowly whilst stirring until all the sugar has dissolved.
Bring to the boil.
Add the lemon juice and boil until the jam looks shiny and smooth.
Remove from the heat, add the liquid pectin, stir well and allow to cool until a skin forms on the surface.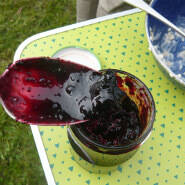 Step #3
Transfer the jam into warm, sterile jars.
Put lids on tightly and cool overnight.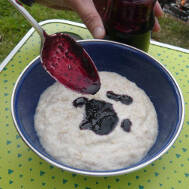 Step #4
Add a generous spoonful of silky purple jam to your campfire-cooked porridge the next morning - delicious!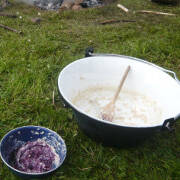 Step #5
Swirl it into your porridge until it turns completely purple if that's your thing.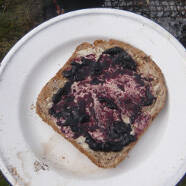 Step #6
How about a taste of a summer's day on your toast?
Take it further: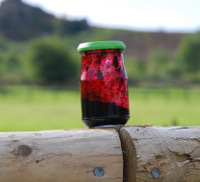 When we left the back-to-basics campsite that encourages open fires, which had inspired us to cook up our bilberries, the children wanted to give a jar to the lovely chap who ran the campsite to say thanks.
Why don't you give a jar of your jam to a friend to share your experience?
Add a hand-decorated wooden tag fastened with flax string to make a lovely gift tag on the jar. Tie in feathers or other natural materials.
Use your jam with these campfire cakes or cakes baked in oranges.
Disclaimer: Muddy Faces cannot take any responsibility for accidents or damage that occurs as a result of following this activity.You are responsible for making sure the activity is conducted safely.