Elderflower cordial recipe
Elderflower cordial recipe
Get picking and enjoy!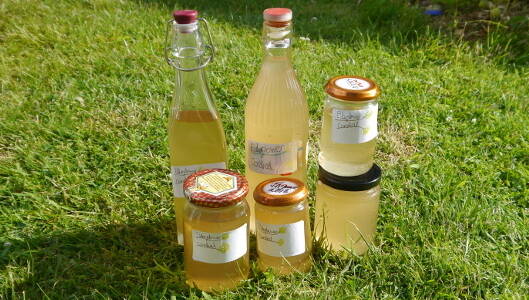 Introduction
The elder (Sambucus nigra) is a native small tree or shrub. It is found in abundance in woods, wastelands, urban greenspaces, hedgerows and gardens, as well as along canals and pathways where the sun can reach them.
The flowers can be used to make your own cordial.
What you'll need
collecting bag
large pan
ingredients (see below)
boiling water
spoon
muslin cloth or similar
tea towel

grater
knife
measuring jug

glass bottles/jars
This activity has been provided by

Useful items from our shop
Item available from our shop
Environmental Considerations
Consider the environmental impact of preparing, carrying out & completing this activity. Could this impact be reduced? Specific considerations for this activity could include:
Health & Safety Considerations
Follow your usual operating procedures and carry out appropriate risk benefit assessments.
Some considerations particular to this activity include: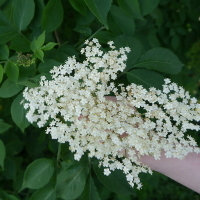 Elder
The elder has 5-7 oval, lightly-serrated leaves, 5-12cm and long and 3-5cm wide that are oppositely-arranged. When rubbed, the leaves have a distinctive smell.
The elder flowers towards the end of May and into June/July and bears fruit in August/September. Flowers are 5-6mm in diameter with 5 petals clustered in an umbel formation, 10-25cm across.
Known hazards:
Information about the toxicity of the elder suggests that the fruit should be cooked (it contains cyanide).
When using flowers, remove as much of the green stalk as you can – up to where the main stem meets the smaller stems attached to the flowers.
Preparation: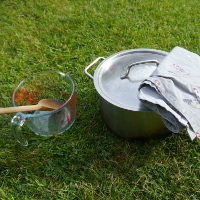 Look out for the first signs of the elder flowering towards the end of May.
Making elderflower cordial requires collection, steeping for 48hrs and then bottling.
Make sure you have all the ingredients ready before you collect the flowers as the flavours are best captured when the flowers are fresh.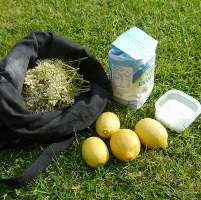 Ingredients:
30 elderflower heads
1kg sugar
55g citric acid (natural preservative - can be found in a chemist or try a hardware shop that sells jam-making equipment)

4 lemons
Picking: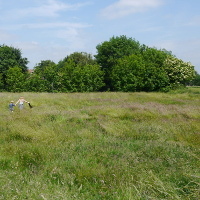 Take a look at our Tips for Foraging for suggestions of sustainable foraging. Avoid picking flowers growing near a main road (the flowerheads absorb pollutants) and make sure you are not on private land when you are picking.
Picking elderflowers is a perfect excuse to explore your local environment. The flowers are best picked when they are dry as the scent is stronger. It's also best to pick first thing in the morning, as the scent changes through the day.
As the flower heads vary in size, throw in some extra heads if some are on the small side.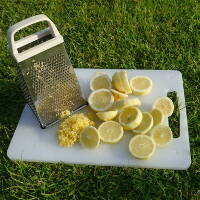 Step #1
Once you have picked your elderflowers, wash and finely grate the peel of 4 lemons.
Cut the grated lemons into thick slices.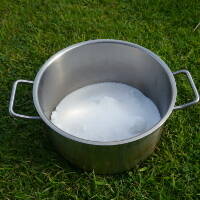 Step #2
Pour the sugar into a clean pan (it IS a lot of sugar, however, the cordial will be aspartame-free!)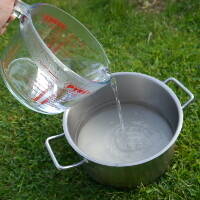 Step #3
Measure out 3 pints of boiling water and add to the sugar, stirring until the sugar has dissolved.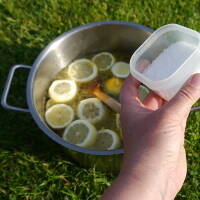 Step #4
Add the lemon rind and slices and the citric acid and give it all a stir.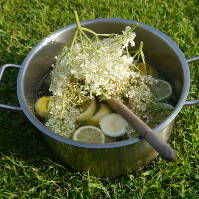 Step #5
Add the elderflower heads, pushing them down into the sugar solution.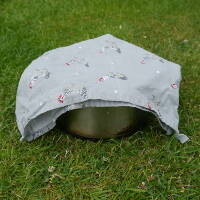 Step #6
Cover the pan with a clean tea towel and leave for 48hrs

(leave out of direct sun).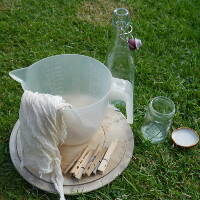 Step #7

Bottling and Straining

You will need a collection of sterilised bottles/containers, a straining device/method and a large jug.

Clean the jars/bottles out with hot soapy water, rinse them, then swill them out with boiling water.
You could also use sterilising tablets and leave bottles in the sterilising water until you need them (check instructions – some don't need to be rinsed off).
Straining methods:
Strain through a purpose-made jelly strainer bag and stand or try out the 'pegging a muslin cloth over a jug' method. This worked really well and just required some shifting of the pegs to allow pouring space for the pan.
Alternatively a sieve/colander could be placed over the jug and then the muslin cloth put into the sieve.
Once your straining system is ready, carefully pour the contents of the steeped elderflowers through the cloth and into the jug.
We did this in 2 stages:
first strain your liquid into the jug
take the pegs off and lift the cloth onto the pan, along with any gathered flowers/lemon slices etc.
then use the jug to fill your bottles with the strained cordial solution (my 8-year-old found a mini-funnel helpful when filling the bottles)
put the lids on (remember to leave an expansion gap in the jar/bottle if you intend to freeze any cordial).
We then set up the straining cloth again and poured the remaining mixture out. We created a pile of flower heads and lemons balanced on top of the cloth, and left it to strain until it stopped dripping (around 20 mins).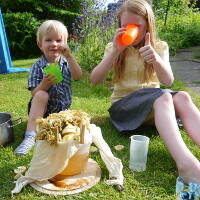 Step #8

Taste!

Whilst you are waiting for the last bits to strain, enjoy your first glass of elderflower cordial – Chin Chin! (Don't forget to dilute!)

Bottle and label the remaining cordial and store in a fridge.

Use within 2 months, otherwise freeze it.

Re-use the lemon slices in your drink and compost the flower heads.
Take it further: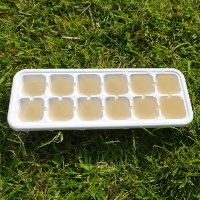 freeze some to get out on Christmas day or give away as a pressie
make cordial ice cubes to pop straight in a glass of water
dilute down, add lollipop sticks and freeze, for a cooling summer lollipop.
Disclaimer: Muddy Faces cannot take any responsibility for accidents or damage that occurs as a result of following this activity.You are responsible for making sure the activity is conducted safely.
Key Features
Age Range All Ages
Duration 3 - 4 Hours
Location Park / Green space
Season Spring
Time of Day Daylight
Categories: Food Outdoors
foraging