Foraging for wellbeing - a bilberry narrative
Foraging for wellbeing - a bilberry narrative
The story of a foraging expedition, where we found bilberries and something far more important.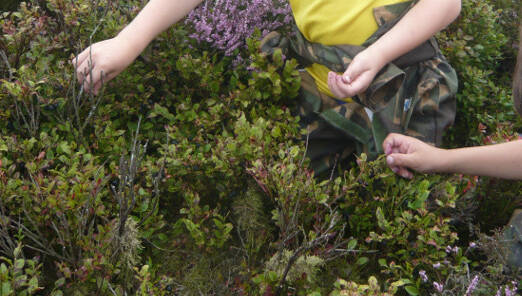 Introduction
This is the story of a spontaneous foraging expedition undertaken while we were camping in the Shropshire Hills, where we found bilberries and something far more important.
Bilberry flowers are out from April to June, on bright green shrubs. They turn into green berries which ripen to a deep purple/black from August to September.
Bilberries are also known in English by other names including blaeberry in Scotland, whortleberry, and in southern England, myrtle blueberry, whinberry, winberry, windberry and wimberry.
The bilberry is in the same family as the blueberry but it is tarter in taste, smaller and more rounded. The blueberry is white inside; the bilberry is black on the outside and purple on the inside and leaves deep purple stains on lips, hands and clothes.
Interestingly, as you wash the stains from your skin they turn a greyish blue. Eventually the stains can be washed from your skin but your clothes are another thing. So it is best to wear old clothes.
This activity has been provided by

Useful items from our shop
Item available from our shop
Environmental Considerations
Consider the environmental impact of preparing, carrying out & completing this activity. Could this impact be reduced? Specific considerations for this activity could include:
Health & Safety Considerations
Follow your usual operating procedures and carry out appropriate risk benefit assessments.
Some considerations particular to this activity include:
Preparation:
On a planned foraging trip, make sure to bring collecting vessels and wear old clothes, preferably with long legs and arms (ie can get stained with bilberry juice without a drama). We've popped in a link (above) to the overalls the boys were wearing on our trip – they loved the camo ones (note: they are slim fitting).
Have a plan to use or freeze the berries soon after picking.
Like most of our foraging experiences, this one was not planned. It was August bank holiday. Whilst walking in the lovely Shropshire hills we soon noticed that all the bushes were laden with bilberries. We saw a couple of people along the way collecting berries using interesting, comb-shaped berry collectors. The kids said "can we collect some?" So we did.
Although the day was focused on foraging something much more important was happening…
We didn't have any collecting vessels with us, but we did have plenty of hands, with four children of varying ages and a couple of adults, all choosing only the fat ripe berries and plucking them with their finger tips.
For collecting our harvest we used what we had with us, which was our jumpers, a sandwich box and a plastic carrier bag. We didn't overpick in any one area (see our tips for foraging).
With children, its compulsory to explore the most-hard to-reach areas that they can find! "WOWWW LOOOOKK – the best berries, for sure, are over there by those massive rocks."
A bit of war paint helps the foraging nature immersion experience.
The day was relaxed and all involved had a deep connection to the natural environment – from awe and wonder at nature's bounty; little moments when an insect or bird flew past; intrigue as small holes disappeared into the rocks or grass; the smells of the plants, particularly heather and lavender; the taste of the berries – all the senses were calmly stimulated.
Adding to this the therapeutic and natural instinct to collect and gather, meant that never, at any point, did the children or adults seem to tire from the activity. Hours were lost absorbed in this relaxing pursuit. The children chose not to dash about and on the whole spoke more quietly; there were no disputes but plenty of chatting as berries were gathered in groups or in solitude, if an individual wandered off to gather on their own. Only the need for food (other than bilberries) was the main incentive to move on.
The deep memories made from our day on the hill, the peace and tranquillity, although not measurable, are undoubtedly, in my mind, a benefit for each of our mental wellbeing.
As the day ended we enjoyed a pleasant stroll back to the campsite with our bounty.
Now, what could we do with all these bilberries..? First things first – let's get the kettle on for a hot drink. The fire was lit and the thinking started.
That evening we made bilberry jam which cooled overnight and was awesome with porridge in the morning.
We made bilberry cakes in oranges, eaten hot with custard.
That evening there was a calm sense of excitement and achievement which was expressed by a game of rounders with a tennis racket as the sky darkened. We sat with full tummies and tired legs by the fire, watching an amazing sunset followed by the gradual appearance of the stars. We didn't just find bilberries on the mountain, we found a little bit of ourselves and a peaceful and shared moment in this hectic world.
The next day we were all very sad to be leaving this lovely little field/back-to-basics campsite, where open campfire cooking was encouraged. The children wanted to celebrate our experience and share it further and suggested we give a pot of our jam to the campsite owner to thank him for a wonderful experience. He was a little surprised that we had collected bilberries and turned them into jam in his field. Mind you, so was I.
Disclaimer: Muddy Faces cannot take any responsibility for accidents or damage that occurs as a result of following this activity.You are responsible for making sure the activity is conducted safely.