INSPIRATIONS - berries
A selection of activities to inspire you during the berry season.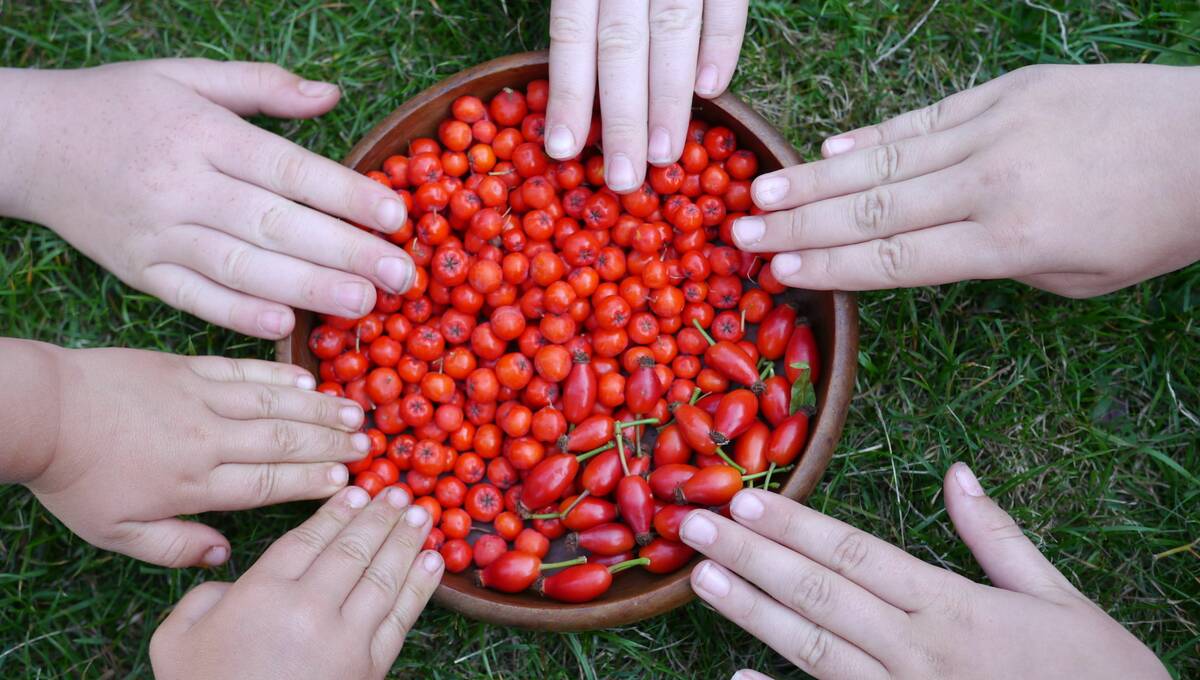 Introduction
Welcome to Muddy Faces Inspirations: bringing together activities & ideas with a specific theme, to inspire your time outdoors playing, learning & connecting with nature. Follow the highlighted links to take you to our step-by-step activity guides.
---
Towards the end of summer and the beginning of autumn, berries begin to appear on trees and bushes. Look out for the 'jewels' amongst the green; bilberries, wild raspberries, blackberries, rowan berries and rose hips, and later on elderberries.
We've put together a few art, craft and recipe ideas here for a taster of all these jewels can offer.
These INSPIRATIONS are a selection of ideas and resources to introduce and complement your child-led berry activities.

What you'll need
This activity has been provided by

Useful items from our shop
Item available from our shop
Environmental Considerations
Consider the environmental impact of preparing, carrying out & completing this activity. Could this impact be reduced? Specific considerations for this activity could include:
Health & Safety Considerations
Follow your usual operating procedures and carry out appropriate risk benefit assessments.
Some considerations particular to this activity include:
positive identification of plants and berries prior to ingestion
Check out the Woodland Trust's A-Z tree guide in the information section of the Outdoor Hub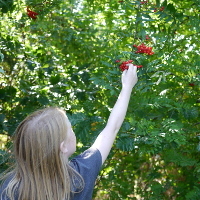 A little note on collecting
Go on a berry hunt in your local area and see what you can find. All you need is a keen set of detectives, some collecting bags and some tree identification guides.
Look at our foraging tips for more information about picking and collecting – think sustainable and responsible.
We also have a foraging and wild food links section in the Links / Food Outdoors part of the Outdoor Hub.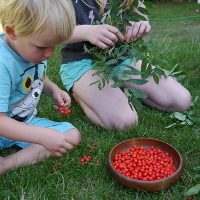 Simply picking:
A brilliant fine motor activity for all ages.
What do they feel like? What do the children say as they pick the berries? How many can you pick?
Admire the beautiful palette of colours as you build up the collection. Rowan berries and rosehips work well for this activity.
NB Elderberries and other soft fruit berries are likely to stain fingers.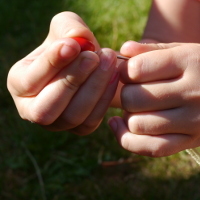 Threading:
A really simple activity and all you need are your berries (rowan and rosehip), some string and an embroidery needle. Make them long, make them short, join them together, hang them up, create some repeating patterns or make a bracelet.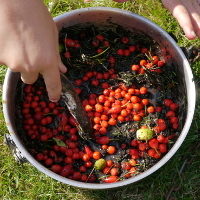 Mud kitchen ingredient:
Rowan berries and rosehips make a fantastic addition to any mud kitchen. The colours look amazing in contrast to the mud. Stir and serve a berry delight!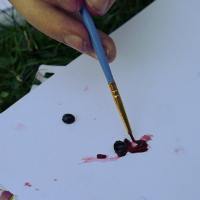 Berry ink:
Squash the berries to get the colour out of them and use your fingers or a brush to paint.
Works best with the softer fruit like blackberries, raspberries and elderberries.
Recipes:
Blackberries and wild raspberries are a delicious foraging treat – 'one for me and one for the pot'!
Or try cooking them up to make a puree to have with some yoghurt (if you add a bit of sugar and keep it in the fridge they will last a bit longer). Alternatively, freeze in batches and bring them out to add some summer fruit tastes to a dark winter night.
Elderberries can be made into a cordial rich in Vitamin C.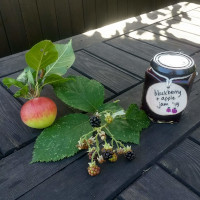 Blackberries:
Have a go at making blackberry and apple jam and get some top tips on picking in this activity.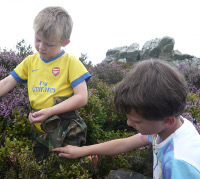 Bilberries:
Read our account of foraging for wellbeing – bilberry narrative.
Once you have collected some bilberries have a go at making some bilberry jam or try popping some into campfire orange cakes… yummy!
Disclaimer: Muddy Faces cannot take any responsibility for accidents or damage that occurs as a result of following this activity.You are responsible for making sure the activity is conducted safely.
Key Features
Age Range All Ages
Duration Less than an hour
Location Anywhere
Season Autumn
Time of Day Daylight
Categories: Art & Creating
Inspirations