Campfire baked apples
Another tasty treat - and one of your 5 a day!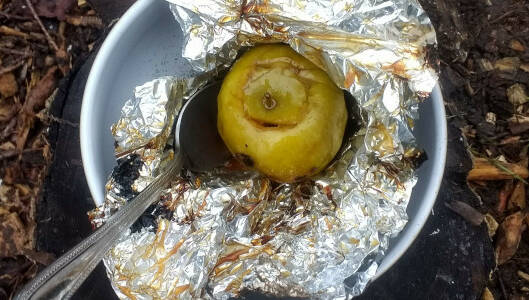 Introduction
There is something really special and comforting about campfire cooking - we're sure everything tastes better (albeit, slightly smoked)! And a soft gooey sticky baked apple is no exception - but be careful not to burn your tongue.
What you'll need
campfire
aluminium foil or Dutch oven

fire gloves
peeler
bowl
apples
sugar/cinnamon/raisins etc.
This activity has been provided by

Useful items from our shop
Item available from our shop
Environmental Considerations
Consider the environmental impact of preparing, carrying out & completing this activity. Could this impact be reduced? Specific considerations for this activity could include:
leave no trace
responsibly source firewood
effect of smoke on others
recycle foil
Health & Safety Considerations
Follow your usual operating procedures and carry out appropriate risk benefit assessments.
Some considerations particular to this activity include:
refer to our fire safety guide
using tools
hot food / sugar / very hot runny juice
food hygiene
Preparation
You need to build a cooking fire by creating a bed of hot embers.
If you are planning to do this activity off site then you can prepare your filling mixture beforehand and take it with you in a container.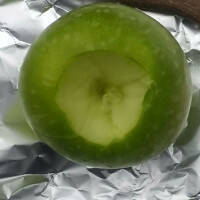 Step #1

apple preparation

Wash the apples, then using a peeler, cut out a small 'lid' at the top of the core - keep that for later.

Next, carefully cut out the core with the peeler (peelers are safer than using knives in this activity).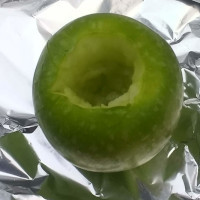 If you cut all the way through the apple then the filling is likely to ooze out of the bottom, therefore aim to leave the base intact, creating a mini edible pot.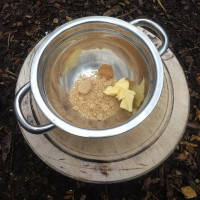 Step #2

the filling

You can experiment with a variety of ingredients and cater for individual tastes. Any combination of the following is tasty:
brown sugar
raisins
cinnamon
oats
mixed nuts
butter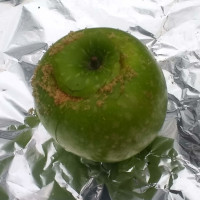 Fill the hole you have made in the centre of the apple with your preferred mixture, and pop the lid back on.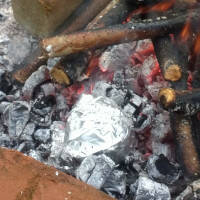 Step #3

cooking

Wrap the apple in foil; if you create a twist at the top you can use this as a handle to lift it out of the fire.

Place in hot embers for 5-10 minutes.

TIP: if embers are extremely hot try not to put these up against the apple as you will get uneven cooking.

Using a fire glove do a squeeze test; if the apple is ready it will feel soft.

Avoiding foil: use a Dutch oven. If you use a baking spacer (which creates a gap between the bottom of the oven and the dish you are using, enabling a more all-round heat, and less chance of burning your item on the bottom) you can put the apple on a baking dish.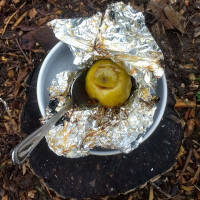 Step #4

eating

When ready, lift out of the fire using fire gloves or tongs and leave to cool for a few minutes in a bowl/container. This will help hold the apple in place and prevent any hot filling/apple from spilling onto knees.

NB Take care when opening and watch out for steam.

If you have turned the apple in the fire, expect some of the filling to have come out and coated the outside!

Once you have opened the foil eat the apple with a spoon – delish!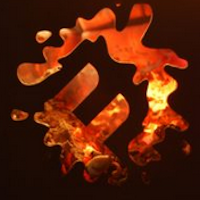 Take it further:
bake a pear as an alternative to an apple
try out some of our other campfire cooking recipes in our INSPIRATIONS: fire activity.
Disclaimer: Muddy Faces cannot take any responsibility for accidents or damage that occurs as a result of following this activity.You are responsible for making sure the activity is conducted safely.