INSPIRATIONS - beach
A spectacular seaside activities inspiration special!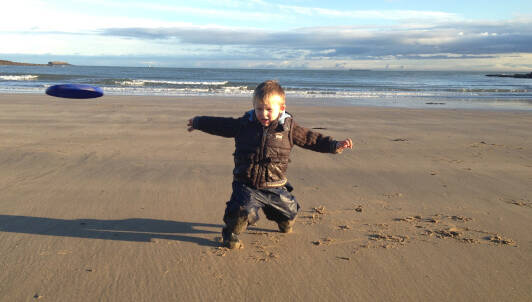 Introduction
Welcome to Muddy Faces Inspirations: bringing together activities & ideas with a specific theme, to inspire your time outdoors playing, learning & connecting with nature. Follow the highlighted links to take you to our step-by-step activity guides.
---
The beach is a perfect place to find inspiration - filled with natural resources where children (and adults) can spend hours exploring, playing, constructing, digging and so much more!

We've collected some of our favourite activities together here.
What you'll need
A beach - or you could recreate the beach with a sandpit and some water and natural materials.
Useful items:
substantial digging spade
bucket (clear buckets are great for looking at rock pool finds)
This activity has been provided by

Useful items from our shop
Item available from our shop
Environmental Considerations
Consider the environmental impact of preparing, carrying out & completing this activity. Could this impact be reduced? Specific considerations for this activity could include:
Health & Safety Considerations
Follow your usual operating procedures and carry out appropriate risk benefit assessments.
Some considerations particular to this activity include:
coastal safety - tides, mud flats etc
Play with perspective
You can have so much fun with a camera - forget selfies and create some magic photos using perspective!
Can you hold a friend in your hand?!
Can you balance on top of a razor clam?!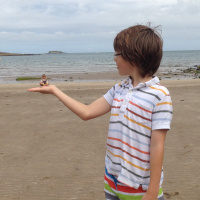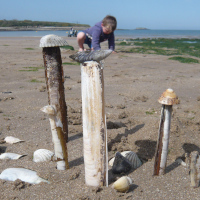 Collecting Shells & Balancing Pebbles
Collecting shells and making patterns with them is great fun.
Balancing is great too - how many limpet shells can you balance on top of each other without them falling over?
Stack some pebbles and then use them as a target to knock over!
Stone landmarks/cairns can be seen in the Arctic region. They are called 'inukshuk'. They may have been used historically for navigation or to mark a food cache amongst other things.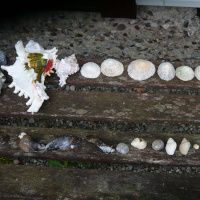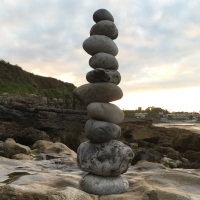 Beach Art
You can just sit down almost anywhere on the beach and start creating! From making mini gardens, going big with drawing, crazy collage,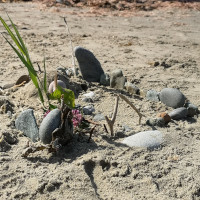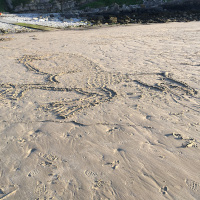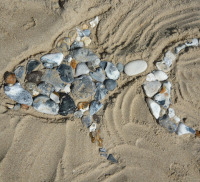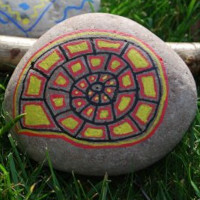 & making faces... simple or 3D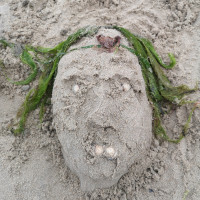 Construction & Design
Building sand castles, digging holes and channels and making bridges - will they be strong enough to beat the tide?!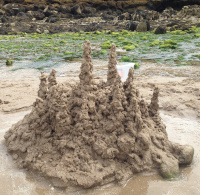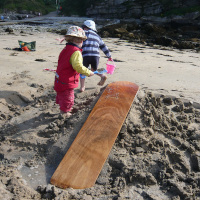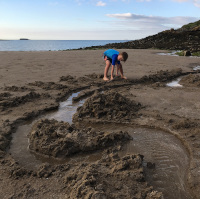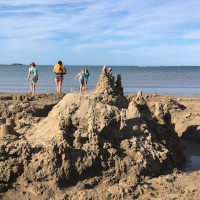 Exploring & Investigation
Get your net and bucket and see what you can find.
Find some crabs, explore a rockpool and look for other beach flora & fauna. How many varieties of seaweed can you identify?
If you put anything in a bucket to get a closer look remember to put it back where you found it.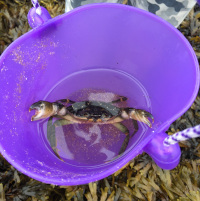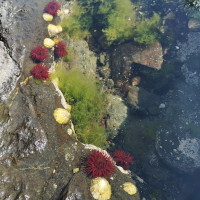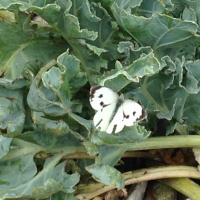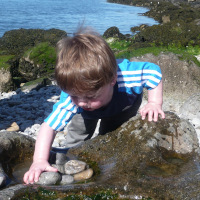 Coastal foraging
Check out these links for tips and advice on coastal foraging.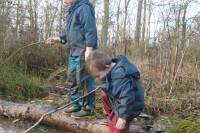 Beach games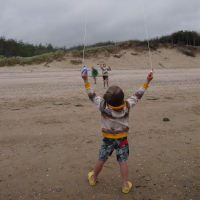 Kite flying
Spin a bucket of water and learn about centrifugal force
Scavenger hunt
Beach cricket / rounders
Beach hop scotch
Limbo - how low can you go?!
Water bucket relay - fill a bucket by going back and forth with a cup of water - who will fill the bucket first?
Bury a friend in the sand and draw a sea creature body for them!
Beach Cleaning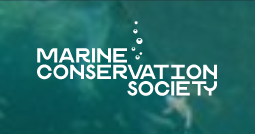 Join in with the Marine Conservation Society's Great British Beach Clean in September.
Find out more
Links to organisations and projects focussed on beaches, the coast and the sea and related wildlife and conservation .
Disclaimer: Muddy Faces cannot take any responsibility for accidents or damage that occurs as a result of following this activity.You are responsible for making sure the activity is conducted safely.
Key Features
Age Range All Ages
Duration Less than an hour
Location Beach
Season Any
Categories: Inspirations