Festive tic tac toe
Super-cute Noughts & Crosses (aka Tic Tac Toe) board & counters with a festive theme - great for presents or parties!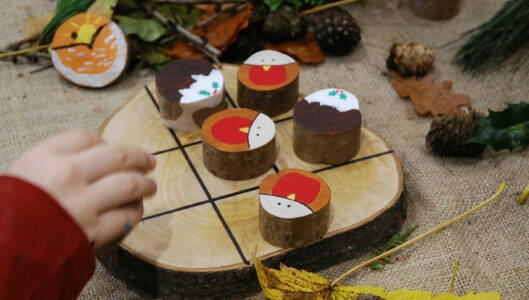 Introduction
* Muddy Faces actively promotes child-led outdoor play & learning. We recognise and believe in the curiosity that children have and their drive to explore and discover. We hope that you will bear this in mind when considering more prescribed activities like this one - often much more creative ideas will occur if resources are simply provided and children are given the time and space to explore independently.
Key Features
Age Range

All Ages

Duration

3 - 4 Hours

Location

Anywhere

Season

Winter

Time of Day

Anytime

Categories:

Art & Creating
wooden discs

Useful items from our shop
Item available from our shop
Environmental Considerations
Consider the environmental impact of preparing, carrying out & completing this activity. Could this impact be reduced? Specific considerations for this activity could include:
leave no trace
source of wood
Health & Safety Considerations
Follow your usual operating procedures and carry out appropriate risk benefit assessments.
Some considerations particular to this activity include:
tool use if drilling hole
What you'll need
wooden counters/discs
alternatives:
large piece of wood for your board
sticks & string
This activity has been provided by

Preparation
Decide which festive counters you are going to use and
sand down any rough edges on the counters or your board.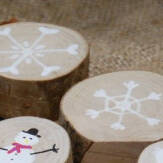 Step #1
Create your festive counters. You'll need two sets, with five of each counter. Choose from:
Step #2
Use a thick marker or paint to draw out your board onto a large piece of wood, or onto card.
You need 4 lines – 2 horizontal and 2 vertical – to make your 3 x 3 grid.
Alternatively: use sticks or string to mark your grid directly on the ground. You could make it really big and use log stools (and children) as counters.
Step #3
It will take 1-2 hours to paint your counters and make your board - next time you can play the game!
Instructions for playing noughts & crosses (also known as Tic Tac Toe)
Take turns placing your counters on the board – try to be the first person to get a straight line of three.


Disclaimer: Muddy Faces cannot take any responsibility for accidents or damage that occurs as a result of following this activity.You are responsible for making sure the activity is conducted safely.