Ice beads
Create strings of hanging ice decorations & explore the science of freezing & melting.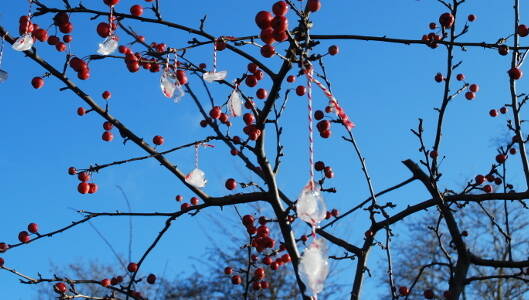 Introduction
Note: dressing in reindeer onesie is not compulsory 😉
Useful items from our shop
Item available from our shop
Environmental Considerations
Consider the environmental impact of preparing, carrying out & completing this activity. Could this impact be reduced? Specific considerations for this activity could include:
Health & Safety Considerations
Follow your usual operating procedures and carry out appropriate risk benefit assessments.
Some considerations particular to this activity include:
What you'll need
water
ice cube trays
string
Small natural objects - like berries, pebbles or shells
food colouring
small toys
alternatives:
This activity has been provided by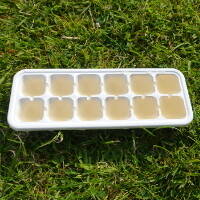 Step #1
Pour water in to your ice cube tray.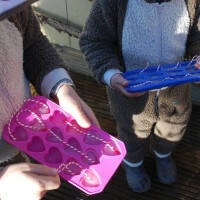 Step #2
Lay the string in and out of each of the ice cube cups. This can be a bit tricky - if it keeps floating up you may need to weigh the string down or angle it to stay in.
You could achieve this same effect by placing a number of vessels closely together and draping the string from one to another.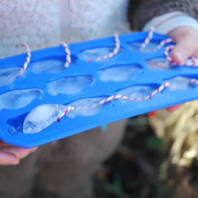 Step #3
Leave your trays outside to freeze, if it's cold enough, or pop them in the freezer.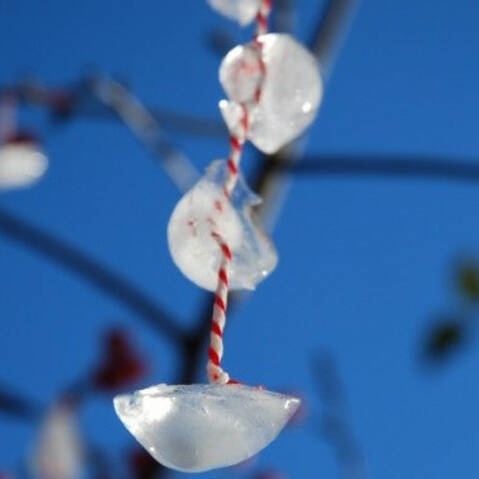 Step #4
Push your ice cubes out - they should hang together in a string.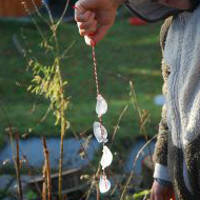 Step #5
Make a loop at one end of your string, to hang in a tree or bush, or drape it like tinsel.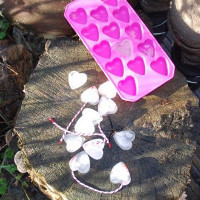 Take it further:
place natural materials in the water before freezing or pop in a small toy
try different sizes or different-shaped ice cube trays
instead of ice cube trays try placing a number of vessels closely together and draping the string from one to another. Experiment with different sizes and shapes
instead of ice cube trays make different shapes using clay, plasticine or similar mouldable material. Mould into any shape, ensuring it will hold the water, i.e. a star, then lay your string through the water, and freeze
try a few drops of food colouring in the water – what happens to the ice?
do this activity in summer, using a freezer, and see how fast your strings of ice melt.
Disclaimer: Muddy Faces cannot take any responsibility for accidents or damage that occurs as a result of following this activity.You are responsible for making sure the activity is conducted safely.