Frozen ice-bowl lantern
Use household kit to create these effective ice & nature light features.
Introduction
These lanterns are perfect for a winter celebration or feast.
Use found natural materials to decorate.
Activity donated by Mandy Tullock - Mud Pie Adventures.
What you'll need
water
2 bowls that can sit inside each other
plastic bag
different sized & coloured leaves
Activity Provided by: Mandy Tullock - Mud Pie Adventures

Useful items from our shop
Item available from our shop
Environmental Considerations
Consider the environmental impact of preparing, carrying out & completing this activity. Could this impact be reduced? Specific considerations for this activity could include:
leave no trace - gather any non-natural materials once the lantern has thawed
Health & Safety Considerations
Follow your usual operating procedures and carry out appropriate risk benefit assessments.
Some considerations particular to this activity include:
use gloves to protect hands
Step #1
Pour water half way up the bigger bowl.
Float some leaves in it.
Step #2
Put a plastic bag around the second bowl and lower it so there is a layer of water all around the bowl. You might need to pour in some water or add stones to stop the smaller bowl floating out.
Step #3
Leave to freeze then pull the two bowls apart.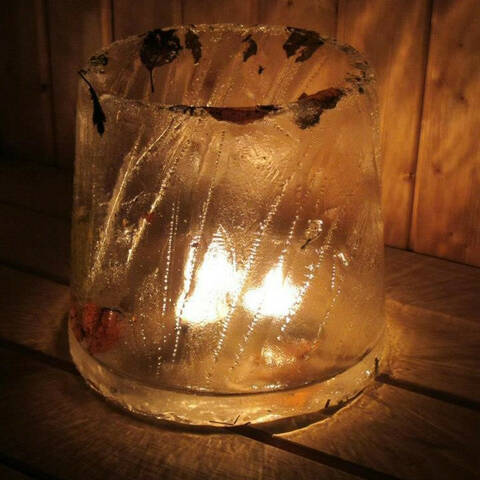 Step #4
Place a nightlight inside your bowl.
Light it at dusk.
Take it further:
make lots of ice-bowls of different shapes and sizes
try putting food colouring or powder paint in the water before freezing
create a path with a series of ice-bowls
Disclaimer: Muddy Faces cannot take any responsibility for accidents or damage that occurs as a result of following this activity.You are responsible for making sure the activity is conducted safely.
Key Features
Age Range All Ages
Duration 3 - 4 Hours
Location Anywhere
Season Winter
Time of Day Night Time
Categories: Art & Creating
ice & snow