Spider & web garland
Double-sided spider and web decoration for Halloween.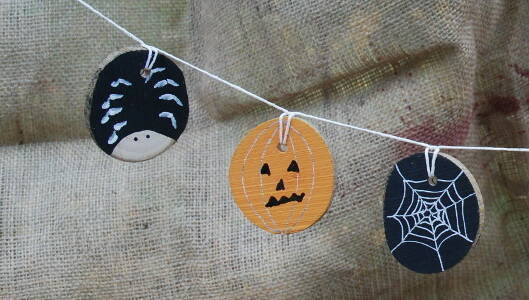 Introduction
All our Muddy Faces activities are intended to be made in or for the outdoors. In this activity we have used weather-resistant acrylic paint on wood which means the Halloween garland will be long-lasting even when it is hung outdoors.
For a cheaper (less weather-resistant) version use card and poster paints.
---
* Muddy Faces actively promotes child-led outdoor play & learning (see the intro to our Outdoor Play section for more on this). We recognise and believe in the curiosity that children have and their drive to explore and discover. We hope that you will bear this in mind when considering more prescribed activities like this one - often much more creative ideas will occur if resources are simply provided and children are given the time and space to explore independently.
Key Features
Age Range

3+

Duration

1 - 2 Hours

Location

Anywhere

Season

Autumn

Time of Day

Anytime

Categories:

Art & Creating

Useful items from our shop
Item available from our shop
Environmental Considerations
Consider the environmental impact of preparing, carrying out & completing this activity. Could this impact be reduced? Specific considerations for this activity could include:
leave not trace
source of wood

Health & Safety Considerations
Follow your usual operating procedures and carry out appropriate risk benefit assessments.
Some considerations particular to this activity include:
What you'll need
wooden discs with holes
black paint
silver/white pen or paint
alternatives:

card
glass or bottle to draw around
This activity has been provided by

Preparation:
Cut and drill at least 10 discs; take a look at our drill a wooden disc activity.
Alternatively buy pre-drilled discs from our shop.
If you are using card instead of wooden discs, draw around a bottle or glass and cut out circles. Carefully use a skewer or scissors to make a hanging hole at the top.
Step #1
Paint one side of each disc completely black. Allow to dry.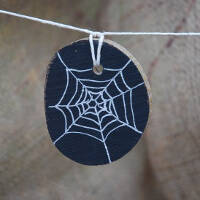 Step #2
Once the black paint is dry use a thin silver or white marker pen to draw on the web.
You can find instruction for drawing/painting a spider's web here.
Allow all the web lines to dry thoroughly.
Step #3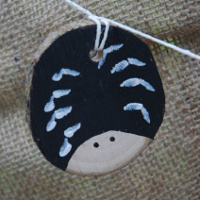 Once the web side is totally dry, turn the discs over and draw or paint a white/silver crescent-shape at the bottom.
Paint the rest black. Allow to dry.
Step #4
Paint the eyes in the crescent-shaped area. How many eyes should a spider have?
Use the white pen/paint to draw on 8 legs.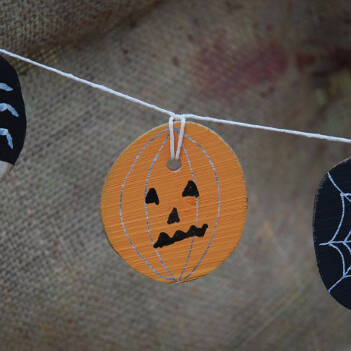 Step #5
Once all the discs are dry, thread them onto a string and hang them up.
Take it further:
try spider's web Heads or Tails – use your disc instead of a coin
combine with pumpkin discs for a super-Halloween chain
make a string & stick spider's web for your spider to hang around in.
Disclaimer: Muddy Faces cannot take any responsibility for accidents or damage that occurs as a result of following this activity.You are responsible for making sure the activity is conducted safely.