Hedgehog Activity
Transform a wooden disc into an adorable hedgehog! This nail activity is great for your early years woodwork area or out and about in Forest School.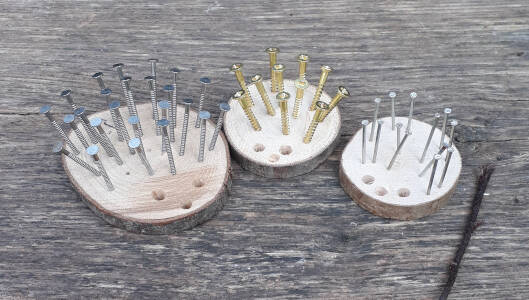 Introduction
A super simple activity that requires basic resources and uses simple tools.
What you'll need
wooden discs
palm drill
nails
hammer
This activity has been provided by

Useful items from our shop
Item available from our shop
Environmental Considerations
Consider the environmental impact of preparing, carrying out & completing this activity. Could this impact be reduced? Specific considerations for this activity could include:
Health & Safety Considerations
Follow your usual operating procedures and carry out appropriate risk benefit assessments.
Some considerations particular to this activity include: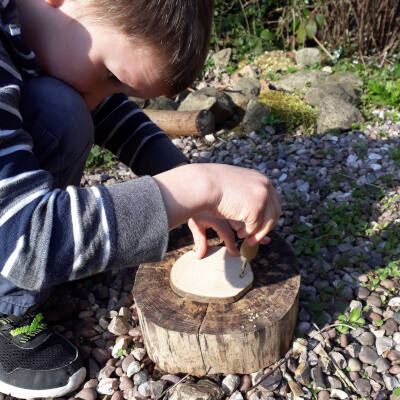 Step #1

Create the eyes & nose

Find a flat working surface that you don't mind being drilled into!

Using a palm drill make 2 holes for the eyes and one for the nose.
Top Tips
look at our guide to drilling a wooden disc
choosing a larger disc will make it easier for small hands to hold
don't drill too close to the edge of the disc as it may split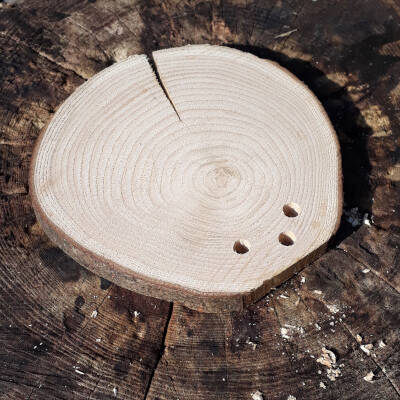 Step #2

Hedgehog's Face takes shape!

You could substitute the holes with marks.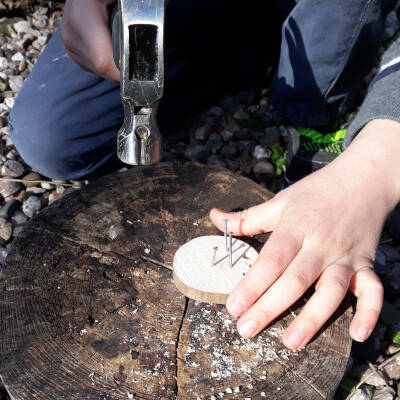 Step #3

Hammer in the 'spines'

Making sure the disc is on a hard flat surface, hammer in the nails in the body area.
Added value
This part of the activity is also great for mathematical development. Here's part of the conversation we had whilst making a hedgehog for this activity...
Adult: "How many nails do you think we can fit on the body?"
Child: "I think 10 ... (as more are hammered in and counted) ... we need one more ... no, I think probably 13."
Top tips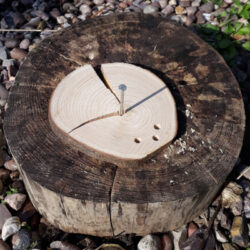 As you add more nails it can get tricky and some previously hammered nails may fall out as you add to the spines. Younger children may need support.
Be aware that nails may be hammered all the way through the wood so check the hedgehog's bottom for sharp ends!
We found that one of our discs split when it was hammered! Make sure your disc is free from splits before you start.
It would be worth having some spares or use thicker discs like our wooden counters.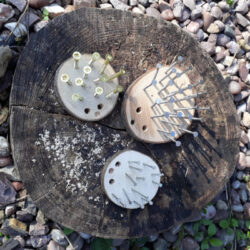 Take it further
Choose different sized discs and make a hedgehog family!
Use screws instead of nails - a good little activity to get the hang of screwing (use a gimlet or bradawl to make an indent)
Disclaimer: Muddy Faces cannot take any responsibility for accidents or damage that occurs as a result of following this activity.You are responsible for making sure the activity is conducted safely.