Pebble creatures
Simple as can be - use stones & add eyes to create creatures with personalities of their own!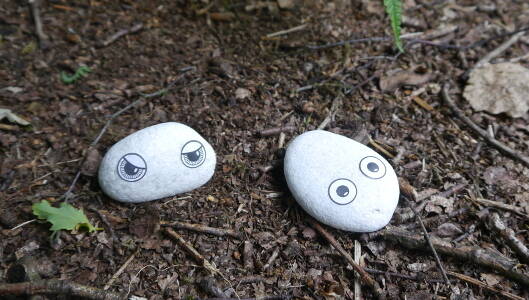 Introduction
A simple and effective activity that can be enjoyed by all ages; great for imaginative and child-led play outdoors.

---
* Muddy Faces actively promotes child-led outdoor play & learning. We recognise and believe in the curiosity that children have and their drive to explore and discover. We hope that you will bear this in mind when considering more prescribed activities like this one – often much more creative ideas will occur if resources are simply provided and children are given the time and space to explore independently.
Useful items from our shop
Item available from our shop
Environmental Considerations
Consider the environmental impact of preparing, carrying out & completing this activity. Could this impact be reduced? Specific considerations for this activity could include:
leave no trace
if drawing on eyes use a non-toxic water based pigment if you plan to leave them outside
Health & Safety Considerations
Follow your usual operating procedures and carry out appropriate risk benefit assessments.
Some considerations particular to this activity include:
What you'll need
pebbles/shells
eye stickers/ non-toxic water based pigment (or acrylic pens for longevity and if not leaving in the environment)
natural materials
cardboard
sticks
a bit of imagination and story telling!
This activity has been provided by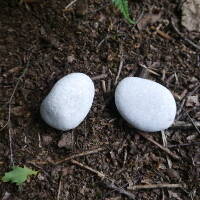 Step #1
Select some plain pebbles with a smooth surface (we used white ones but any colour would work).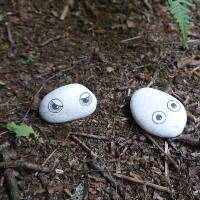 Step #2
Using the stickers, transform the pebbles into creatures in under 5 seconds … MAGIC!
(The 3-year-olds that participated in this activity needed help to peel off the stickers.)
The eye stickers are made of paper and, as they are white, you can see them on the ground when they fall off; thus helping with a 'leave no trace' approach to being outdoors.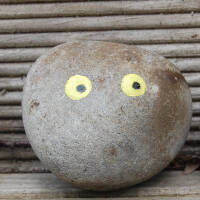 Step #3
Mark on your own eyes using a non-toxic water based pigment or chalk.
If you want the eyes to be a permanent and long-lasting feature then use weatherproof acrylic pens; perfect for outdoor use and for use in water in your own setting.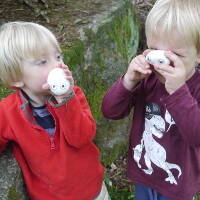 Step #4
Give your creatures names - ours were 'Alfie' and 'Johnno'.
Take it further:
Hide & Seek - we hid the pebbles for the children to find. They found it very exciting, even more so when they began hiding the pebbles for each other to find!

Maths monsters - add multiple eyes to your creatures.

Use different natural materials - make a leaf creature or a cardboard creature! The corrugation provides a great 'no glue' approach to adding natural material limbs and tails.
Create a micro-den for your creatures.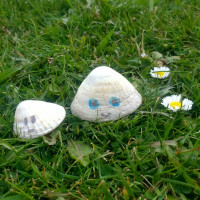 Create a shell creature!

Disclaimer: Muddy Faces cannot take any responsibility for accidents or damage that occurs as a result of following this activity.You are responsible for making sure the activity is conducted safely.