Snow brick shelter
Build a winter den with snow bricks.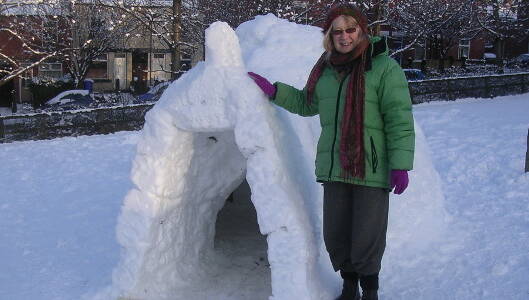 Introduction
You'll need some serious snow to make this snow shelter!
Surprisingly warm once you're inside - the snow acts as an excellent insulator - just add blankets and cushions and a mug of hot chocolate for this ultimate winter den.
Activity donated by Vicki Stewart of Brightwood Training.
What you'll need
plastic ice cream tubs, recycling boxes or similar
snow
branches, long sticks or willows
Vicki Stewart - Brightwood Training

Useful items from our shop
Item available from our shop
Environmental Considerations
Consider the environmental impact of preparing, carrying out & completing this activity. Could this impact be reduced? Specific considerations for this activity could include:
permission of landowner to build
Health & Safety Considerations
Follow your usual operating procedures and carry out appropriate risk benefit assessments.
Some considerations particular to this activity include:
wear appropriate footwear and gloves
awareness of wall strength/weakness
Preparation
Decide where you are going to build your snow shelter and clear the ground if needed.
Step #1
Fill the plastic tubs with snow and compact them down.
Step #2
Turn over the tubs and lift them off, so the snow stays like a sandcastle.

Place your snow bricks all round your foundations.
Step #3
Layer the snow bricks on top of each other to build up the walls.
Step #4
If you can, make a snow brick archway for your roof, or try willows or branches covered in blankets to finish off the top.
Take it further:
decorate with natural materials
go miniature and make a small world snow shelter!

if you haven't got any snow then use a white sheet or some white camo netting to make a snow cave den.
Disclaimer: Muddy Faces cannot take any responsibility for accidents or damage that occurs as a result of following this activity.You are responsible for making sure the activity is conducted safely.