Fit it out
Section 4 of the Making a Mud Kitchen book.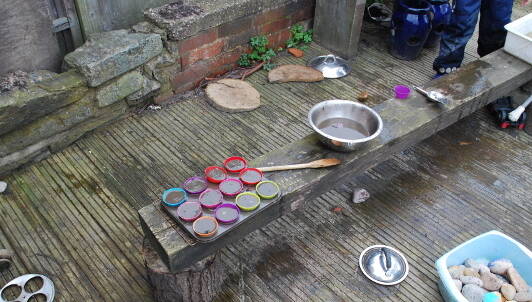 Introduction
What you'll need
mud
children
old kitchen utensils
This activity has been provided by

Useful items from our shop
Item available from our shop
Environmental Considerations
Consider the environmental impact of preparing, carrying out & completing this activity. Could this impact be reduced? Specific considerations for this activity could include:
Health & Safety Considerations
Follow your usual operating procedures and carry out appropriate risk benefit assessments.
Some considerations particular to this activity include: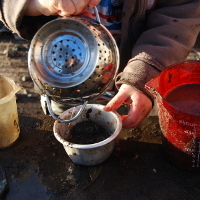 Fit it Out:
An old cupboard or two; a dresser is perfect!
Work top with plenty of surface to work at
Something to be the cooker in pretend play (an old microwave can be very effective, having a very satisfying door to open and close, and buttons to push)
Shelving above and behind the work surface, or a tall cupboard to one side
A good basic selection of pots and pans, jugs and funnels, bakeware etc
An interesting collection of common kitchen utensils, together with a few unusual and intriguing ones, such as an ice-cream scoop
Plenty of bowls and containers, again a range of the common ones and a few special ones such as jelly moulds or ice-cube trays
Supplies of natural materials in small containers and/or jars (lids that stay attached are ideal as they do not get lost)
Plants for picking, mixing and grinding
Enhancements for suitable occasions, such as a selection of food colourings, essences, herbs and spices, chalk for grinding and mixing, and 'special' ingredients to add the final magical touches to potions and spells
A big washing up bowl, especially one sunk into the worktop, is very helpful as part of the play and for washing up afterwards.
Note, specific dressing up clothes are not needed!
Disclaimer: Muddy Faces cannot take any responsibility for accidents or damage that occurs as a result of following this activity.You are responsible for making sure the activity is conducted safely.
Key Features
Age Range All Ages
Duration 3 - 4 Hours
Location Anywhere
Season Any
Time of Day Anytime
Categories: Outdoor Play