Perfumes & Lotions
A thoughtful and fascinating collection of resources that harnesses children's natural drives and interests.
£119.89 exVAT
£143.87 incVAT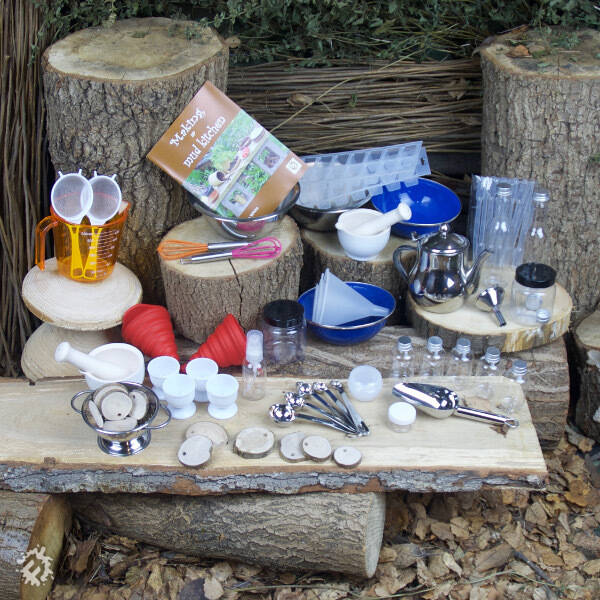 Additional Information
Selecting, preparing and adding ingredients that create a fascinating concoction, and then processing it by filtering and funneling into little jars and bottles, results in potions that produce the most interesting of aromas. This is sophisticated mud pie making and an amazing development for the mud kitchen.
Contents:
Potion and lotion preparation, small pestle & mortar, mini colander, strainers
A range of small funnels and mini whisks
A small reflective stainless steel scoop
Measuring spoon, pipettes and silicon bowl set
Small sorting containers
Ice cube tray wooden egg cups
A large selection of jars cosmetic jars bottles and dispensers (no glass) and of course a couple of spare lids
This set is part of the Mud Kitchen range created by Jan White, specialist in early childhood outdoor provision (visit Jan's website at janwhitenaturalplay.wordpress.co.uk) in collaboration with Muddy Faces.
The aim of the Mud Kitchen range is to deepen the understanding, importance, value and range of experiences from mud play as continuous provision and to support practitioners to achieve this.
Each set is a collection of beautiful items that wonderfully support young children's natural desires to explore and discover, imagine and create, relate and interact. Each collection has been carefully selected starting from what we know young children want to do and with strong regard for how children's play and learning is best supported during the early years.
Look at our Rose petal perfume and Perfume alchemy with a campfire activities on the Outdoor Hub?
Some Muddy Faces Ideas
Related Products