Autumn leaf wand
A simple-to-make leaf wand for ushering in the autumn fairies.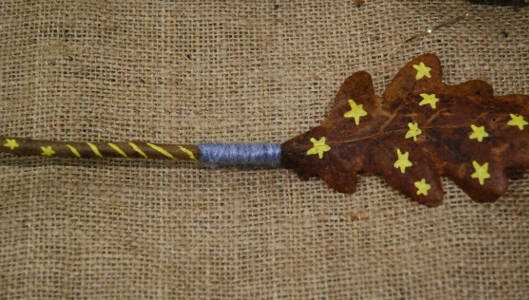 Introduction
Create some magic this autumn with a homemade leaf wand. Once you have carefully selected your magic leaf and magic stick attach them together and 'Abracadabra'!
---
* Muddy Faces actively promotes child-led outdoor play & learning. We recognise and believe in the curiosity that children have and their drive to explore and discover. We hope that you will bear this in mind when considering more prescribed activities like this one – often much more creative ideas will occur if resources are simply provided and children are given the time and space to explore independently.
Useful items from our shop
Item available from our shop
Environmental Considerations
Consider the environmental impact of preparing, carrying out & completing this activity. Could this impact be reduced? Specific considerations for this activity could include:
Health & Safety Considerations
Follow your usual operating procedures and carry out appropriate risk benefit assessments.
Some considerations particular to this activity include:
collecting natural materials
What you'll need
collected leaves & sticks
sticky stars
wool or twine
paint & brushes or acrylic pens
waterproof glue

This activity has been provided by

Preparation
Collect thin sticks, about the thickness of your little finger, straight or wonky, and autumn leaves – all sorts of shapes and colours.

Step #1
Decorate your leaves – there are lots of ways you can do this:

paint them
use acrylic or chalk pens
stick on some sticky stars
cut out star shapes from brightly coloured leaves and stick them on (see our leaf decorations activity).
While they are drying, go on to step #2.
Step #2
Decorate your sticks using stickers, paint or chalk pens, or use wool to wrap patterns around them.
Step #3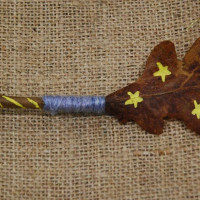 Once it's dry, attach your decorated leaf to the end of the stick.
Wrap the stalk end of the leaf to the end of the stick using wool, string or wire.
You may need to use a blob of glue to help it stay in place, but the tying alone should hold it in place.
Step #4
Use your wand for leafy spells and magic!
Take it further:
create poems or songs for spells
those with nimble fingers could whittle grooves into the stick before attaching the leaf
reduce moisture loss from the leaf, which could make it brittle, by painting it with glue.
Disclaimer: Muddy Faces cannot take any responsibility for accidents or damage that occurs as a result of following this activity.You are responsible for making sure the activity is conducted safely.