Magic woodland wands
Create a magical experience by gathering natural materials for a wand and spell - so simple but works so well!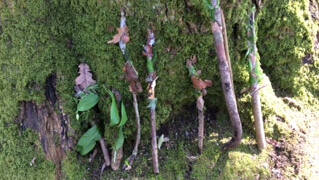 Introduction
This activity is simple but works so well and can be extended in many ways, especially with storytelling, folklore, seasons and celebrations and types of wood.
It can also be great for developing emotional literacy by thinking about the things we would wish for.

---
* Muddy Faces actively promotes child-led outdoor play & learning. We recognise and believe in the curiosity that children have and their drive to explore and discover. We hope that you will bear this in mind when considering more prescribed activities like this one – often much more creative ideas will occur if resources are simply provided and children are given the time and space to explore independently.
Useful items from our shop
Item available from our shop
Environmental Considerations
Consider the environmental impact of preparing, carrying out & completing this activity. Could this impact be reduced? Specific considerations for this activity could include:
Health & Safety Considerations
Follow your usual operating procedures and carry out appropriate risk benefit assessments.
Some considerations particular to this activity include:
What you'll need
sticks
natural materials
double-side sticky tape
a dry day!

Ruth Parsons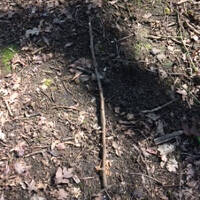 Step #1
Each child chooses a stick from the woodland floor, about the length of their arm.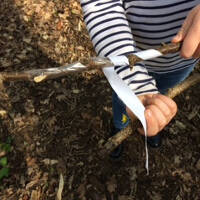 Step #2
Wind double-sided tape around one end of the stick.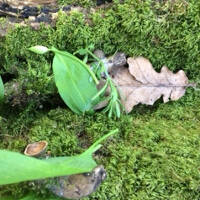 Step #3
The child then collects magical things (natural items) and sticks them on their wand.
Each special thing adds to the magic.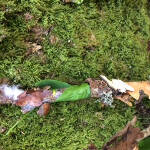 Step #4
The child invents a magic word or rhyme that is unique to them.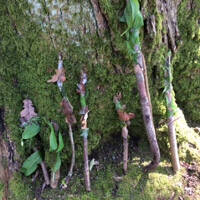 Step #5
Spells are created by saying the magic word or rhyme with the wand in contact with the earth.

Take it further:
Ruth, who donated this activity, says
"Some year 2's and I made wands and took these photos… A great way to celebrate the season, note the wild garlic! We talked about the properties of the trees the sticks came from and the magic that tree could give us. The children all wanted oak to make them strong!"
Disclaimer: Muddy Faces cannot take any responsibility for accidents or damage that occurs as a result of following this activity.You are responsible for making sure the activity is conducted safely.