Threading leaves
This must be one of the most popular woodland activities of all time - ideal for collecting colourful autumn leaves to use back at base, or to make amazing leaf mobiles.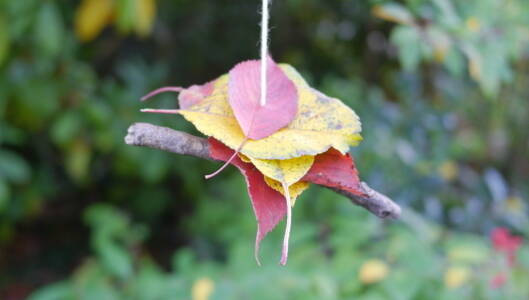 Introduction
A great activity to support the development of fine motor skills. Children can practise their threading and knot tying.

---
* Muddy Faces actively promotes child-led outdoor play & learning. We recognise and believe in the curiosity that children have and their drive to explore and discover. We hope that you will bear this in mind when considering more prescribed activities like this one – often much more creative ideas will occur if resources are simply provided and children are given the time and space to explore independently.
Useful items from our shop
Item available from our shop
Environmental Considerations
Consider the environmental impact of preparing, carrying out & completing this activity. Could this impact be reduced? Specific considerations for this activity could include:
Health & Safety Considerations
Follow your usual operating procedures and carry out appropriate risk benefit assessments.
Some considerations particular to this activity include:
collecting natural materials

What you'll need
a collection of leaves
string
small sticks
chunky threading needle/match stick sized stick & adhesive tape
This activity has been provided by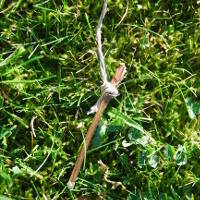 Step #1
Tie the match-sized stick to one end of the string – try to make the knot as tight and low profile as possible.
This stick will become the needle, threading through the leaves.
You have now created a Super Leaf Threader!
Alternatives: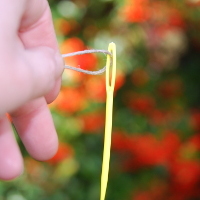 Sometimes it can be difficult to tie this little stick on or it may slip off. An alternative is to use a chunky needle.
Tie a knot in the string to stop the needle slipping off.
Another alternative is to tightly tape one end of a piece of string to make it rigid.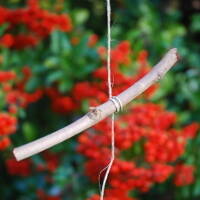 Step #2
Tie the slightly larger stick to the other end of the string.
This will be the stopper that prevents the leaves falling off the string (a clove hitch is good for this).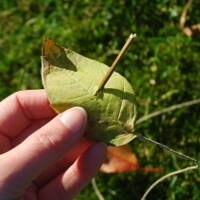 Step #3
Take a walk through the woods, gathering and threading lots of colourful and different-shaped fallen leaves.
Use the small stick to thread through the leaves, one by one.
… or use the needle for threading through the leaves.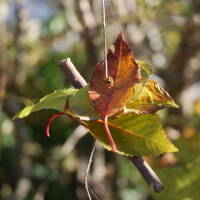 Step #4
Continue threading leaves onto the string until you have collected as many as you want, or are satisfied with your creation.

Take it further: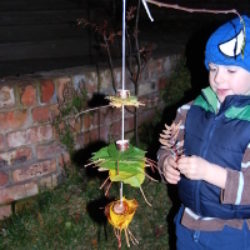 Use the threaded leaves for outdoor art or craft or make multi-layered leaf mobiles.
Disclaimer: Muddy Faces cannot take any responsibility for accidents or damage that occurs as a result of following this activity.You are responsible for making sure the activity is conducted safely.