Make a broomstick
A simple way to make a useful broom & with a bit of imagination you might be able to fly it!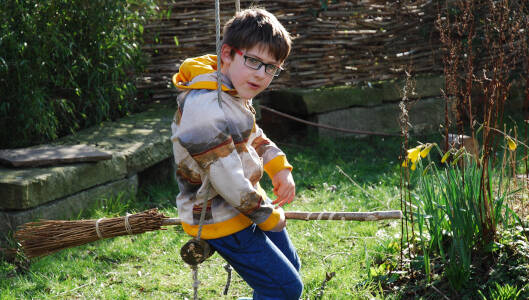 Introduction
A besom broom is a broom constructed around a central pole. Traditionally the handle is made of hazel wood and the head is of birch twigs but other materials can be used. In the photo above, the handle is hazel and a knife has been used to create a decorative pattern. As you can see the magic definitely works as it is actually flying (with the help of our swing)!
What you'll need
a pole
string
hand drill and bits
secateurs
bow saw
cutttings from birch/willow
a little bit of magic!

This activity has been provided by

Useful items from our shop
Item available from our shop
Environmental Considerations
Consider the environmental impact of preparing, carrying out & completing this activity. Could this impact be reduced? Specific considerations for this activity could include:
sustainable and responsible sourcing of pole and broom head materials
Health & Safety Considerations
Follow your usual operating procedures and carry out appropriate risk benefit assessments.
Some considerations particular to this activity include:
Step #1

PREPARATIONS

Collect a bundle of birch/willow for your broom head, and find a piece of wood suitable for the handle.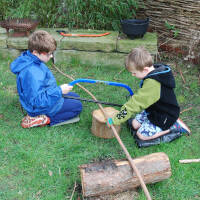 Step #2

CUTTING THE POLE

Cut the pole to length using a saw.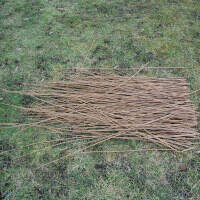 Step #3

GET THE BROOM HEAD MATERIAL READY

Cut the broom head material to length using secateurs. Various materials can be used, including thin willow or birch twigs.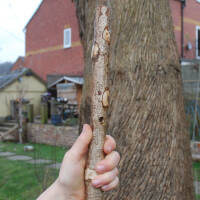 Step #4

DRILLING THE POLE

Drill a hole in the pole about 10cm from one end.

This is to securely connect the brush material, to prevent the broom head falling off. It's not used in the traditional technique but it's common for the heads to fall off when making them with children, as the tension needed can't be applied without more specific tools and more experience.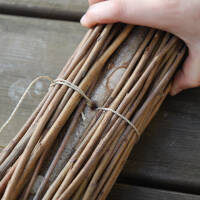 Step #5

TYING ON

Tie string or wire through the hole and then place a layer of broom head material around one side of the pole.

Tie the string around and back through the hole and then repeat on the other side.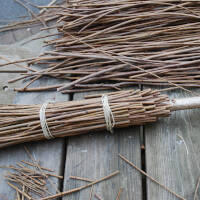 Step #6

ADDING ADDITIONAL BROOM HEAD MATERIAL

Add more broom head material and firmly tie it around the outside.

Once you have enough material added you can tie around the outside in a band and add another band nearer to the end of the pole.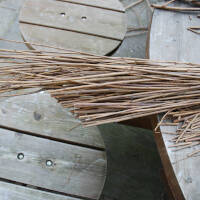 Step #7

TRIMMING UP

Finally, trim your broom head material to shape it.

TAKE IT FURTHER
learn how to fly your broom!
Disclaimer: Muddy Faces cannot take any responsibility for accidents or damage that occurs as a result of following this activity.You are responsible for making sure the activity is conducted safely.
Key Features
Age Range All Ages
Duration 1 - 2 Hours
Location Anywhere
Season Any