Leaf art with pens
A quick and easy activity to spruce up your leaves!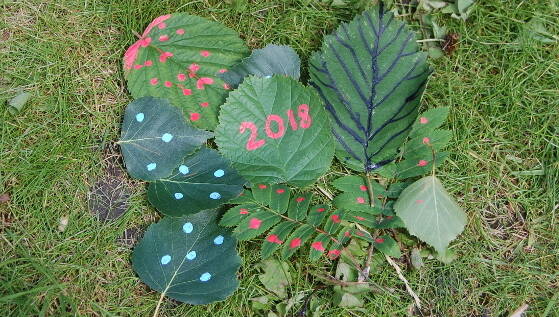 Introduction
* Muddy Faces actively promotes child-led outdoor play & learning. We recognise and believe in the curiosity that children have and their drive to explore and discover. We hope that you will bear this in mind when considering more prescribed activities like this one – often much more creative ideas will occur if resources are simply provided and children are given the time and space to explore independently.
---
Useful items from our shop
Item available from our shop
Environmental Considerations
Consider the environmental impact of preparing, carrying out & completing this activity. Could this impact be reduced? Specific considerations for this activity could include:
use non-toxic water based pigment if leaving art in the environment
ideally collect leaves from the ground, but if picking leaves from a tree aim for minimal impact (seek permission when necessary)
leave no trace

Health & Safety Considerations
Follow your usual operating procedures and carry out appropriate risk benefit assessments.
Some considerations particular to this activity include:
collecting natural materials

What you'll need
a collection of gathered leaves
acrylic pens/paint

This activity has been provided by

Preparation
Gather a selection of pens that will write on your leaves.
We found acrylic pens and chalk pens work well – many cheaper markers work well too.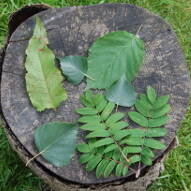 Step #1
Collect some leaves.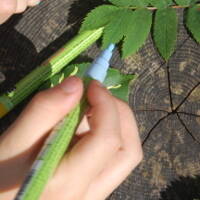 Step #2
Find a flat surface.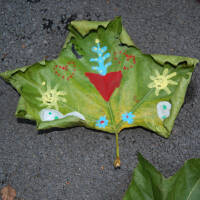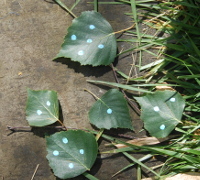 Take it further:
use spots for maths and counting.
try tracing the veins and lines of the leaves – requires close observation!
Disclaimer: Muddy Faces cannot take any responsibility for accidents or damage that occurs as a result of following this activity.You are responsible for making sure the activity is conducted safely.