Create Maxi Modular Mud Kitchen
Create Maxi Modular Mud Kitchen
This is our highly popular Create Modular Mud Kitchen scaled up for larger groups. We have added more items that all fit the modular heights and work together perfectly. This large set opens up options for many children to be playing at the same time with an abundance of resources including hobs, sinks, planks, trestles, crates and logs.

This set can be assembled in many different configurations to suit the activity. These simple but very effective mud kitchen modules create a variety of different work surfaces. Each item is designed to be both robust and portable enabling children to use the resources in different ways.

The supports are rough cut rustic logs and sturdy trestles and crates made from treated timber, and the planks and hobs are made from UK grown larch which are untreated and naturally durable.

£1,229.99 exVAT
£1,475.99 incVAT
£1,399.99 exVAT
£1,679.99 incVAT
Selected:
This set is designed for a work height of 40cm making it ideal for Early Years settings.
The set comprises 1 x rustic mud kitchen sign, 6x trestles, 2x rustic hob plank 100cm, 2x rustic hob plank 50cm, 10x rustic plain planks 100cm, 2x sinks & stands, 2 x bowls, 4x heavy duty play crates (2x with lids) and 20x logs.
Designed for a height of 60cm, ideal for KS1-2 children. This modular mud kitchen has enough resources to support play in whichever imaginative direction it spins off to.
The set comprises 1x rustic mud kitchen sign, 6x trestles, 2x rustic hob plank 100cm, 2x rustic hob plank 50cm, 10x rustic plain planks 100cm, 2x sinks & stands, 2x bowls, 3x heavy duty play crates with lids and 32x logs.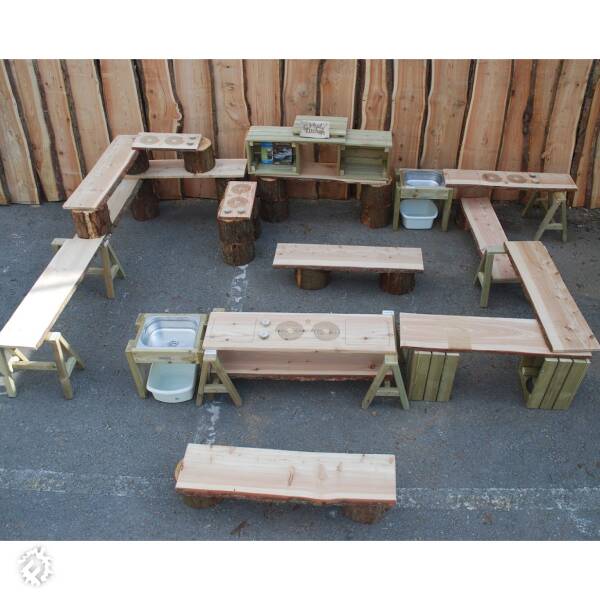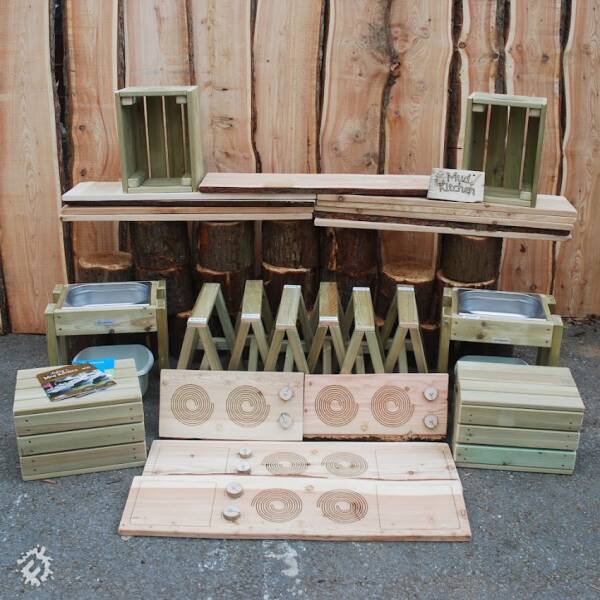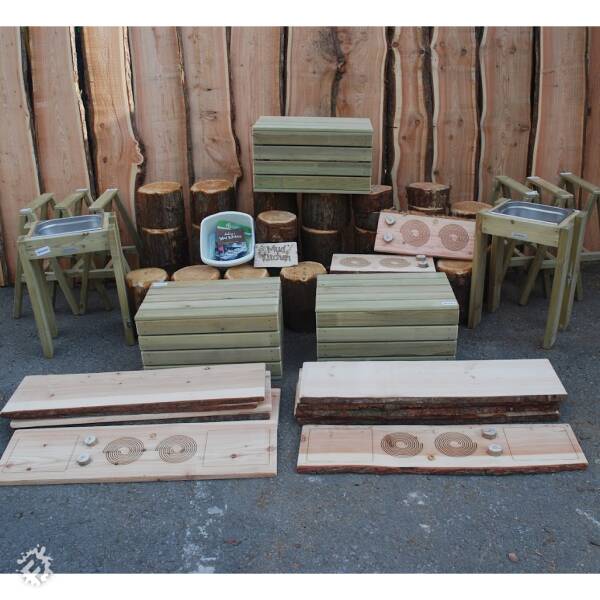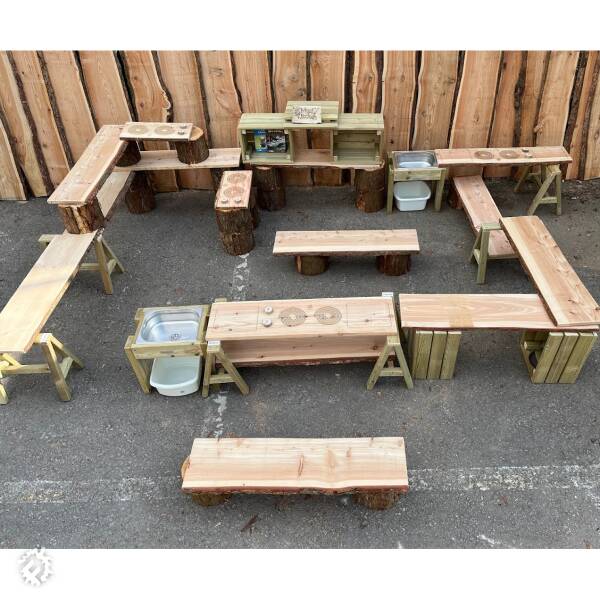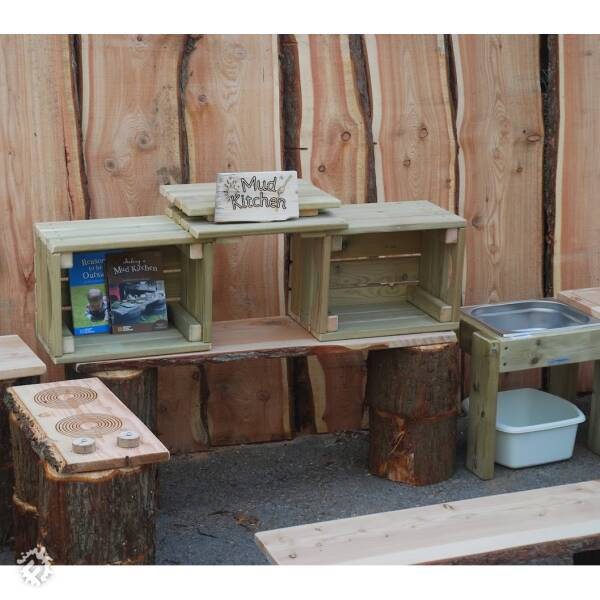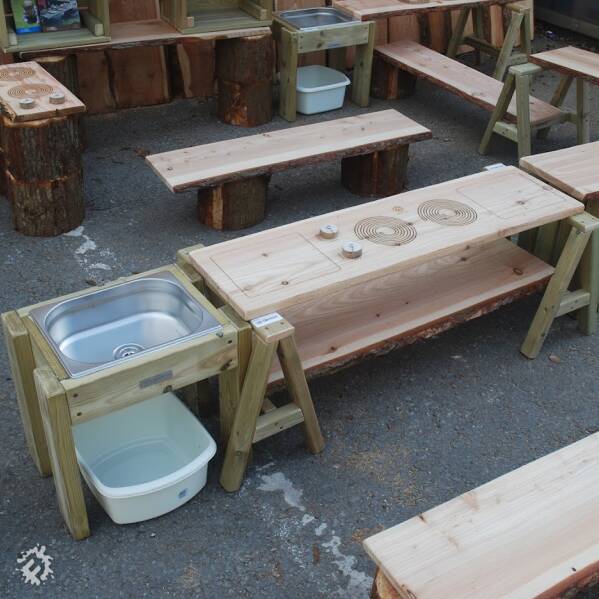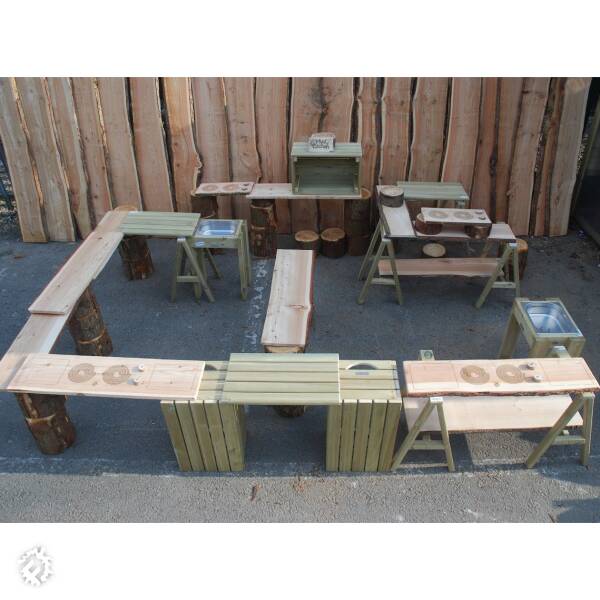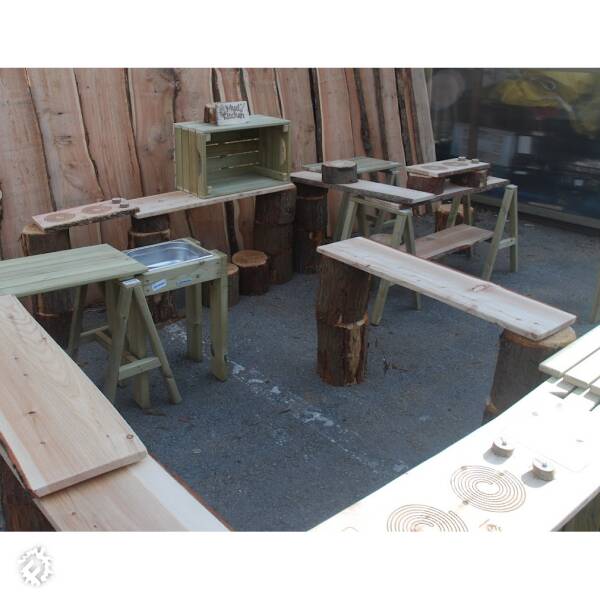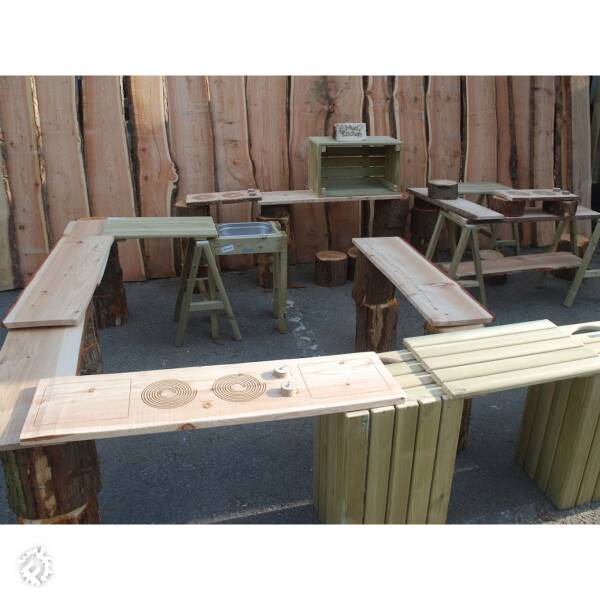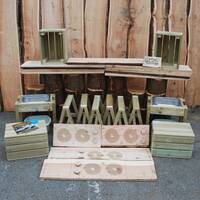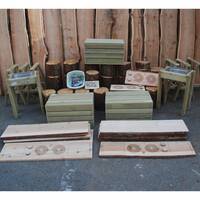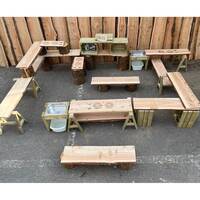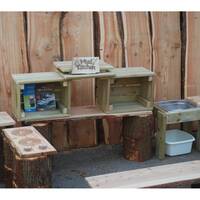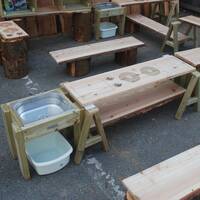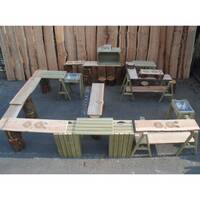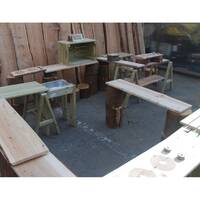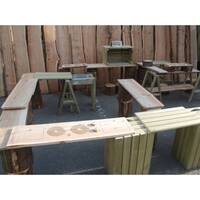 Made in the UK
Helping to support UK industry and reduce our carbon footprint.


Made with UK Wood
All our natural wood products are handmade from materials sourced from sustainably-managed woodlands in the UK; supporting local crafts people, woodland viability and biodiversity. These products are made from untreated wood and they will crack and change over time. This is a natural process which does not affect the use of the product and can encourage a child's investigation of the natural world.
Wood contains a natural preservative called tannin which aids its longevity. Tannin is soluble and can leach out of wood when it gets wet. Once the water evaporates, it can leave tannin sediment behind, causing staining. We recommend that you do not store your wood on a porous surface as it may cause discolouration.
Additional Information
Loose parts provide significantly more learning and play opportunities than a piece of static outdoor furniture. They are often much cheaper and therefore provide better value for money. For children to take ownership of their play and learning spaces, it is important that they can adapt their environment making it relevant to them and creating an authentic experience. Modular mud kitchen systems enable children to move and manipulate their mud play area supporting creativity and problem solving whilst having a full body physical experience. The modular system helps turn the mud play area into a space for scientific investigations and challenging play. When children can move items then a hob isn't just a hob, it's dash board in a space ship and a thousand other opportunities!

We have lots of mud ideas and activities on our Outdoor Hub Mud page. In particular read our Making a Mud Kitchen for how you can maximise your space with an effective mud kitchen.
The bark of the rustic rough cut logs may peel off. This is part of its natural form and can aid children's connection with nature. The peeled bark can also be used as an extra ingredient in their mud pies!
Preserving Treatment - It is extremely important for us at Muddy Faces to use a treatment that is safe for children and the environment. All our treated wood is TANALITH (read more here). Many wood treatments raise concerns around environment and child safety. It is really important to check what wood treatment your supplier uses when choosing educational resources.
Our larch is UK grown and untreated. Larch is a resinous wood which is naturally durable and will last up to 15 years (or longer with treatment). Larch planks will with age change colour, they may also develop, splits, cracks, cup or warp.
Some Muddy Faces Ideas
Related Products