Making flags
This activity can be done in a simple way or made a little more complex by using eyelet pliers.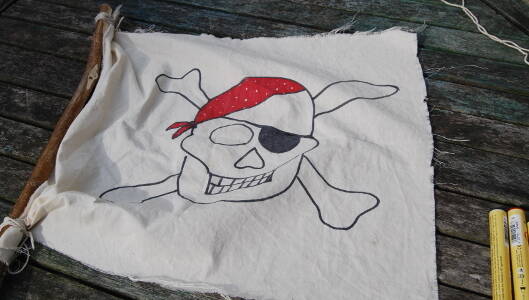 Introduction
Flags are a great asset to any outdoor space/camp/den and even better if you can make your own!
What you'll need
material – we have used calico but an old cotton sheet would work just as well
pens – fabric pens or acrylic pens (water based pens such as felt tips work well but will run if left out in the rain)
a wooden stick for a flag pole
This activity has been provided by

Useful items from our shop
Item available from our shop
Environmental Considerations
Consider the environmental impact of preparing, carrying out & completing this activity. Could this impact be reduced? Specific considerations for this activity could include:
leave no trace
consider using recycled material

Health & Safety Considerations
Follow your usual operating procedures and carry out appropriate risk benefit assessments.
Some considerations particular to this activity include:
tool use
working with sticks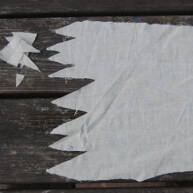 Step #1

Cut your cloth

Cut out a flag shape. If you want to age it you could feather the ends and stain with tea (NB too much staining will effect the art work).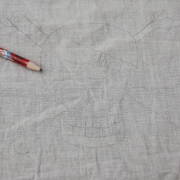 Step #2

sketch your design

Using a pencil, draw the outline/shape you wish to create.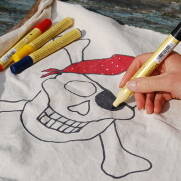 Step #3

Make it permanent

When you are happy with the design draw over the pencil in your chosen pen.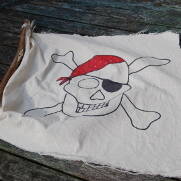 Step #4

Attach to the flagpole (a)

Attach the flag to the pole – tie the ends of the flag to a wooden pole with string. You will need to do this tightly or it will keep falling off.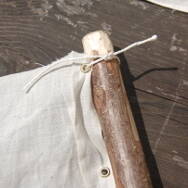 Step #5

Attach to the flagpole (b)

Alternatively, eyelets can be used to help tie the flag onto the pole and for a neater finish. You can get different types of eyelets; the ones we used in this activity were inserted using eyelet pliers.

Tie the flag through eyelets onto the pole and secure using a knot such as reef knot.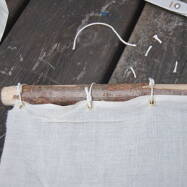 Step #6

Finish off

Trim all the ends to tidy up.
Tip
If your flags keep slipping down try drilling a hole in the top of the pole or sawing a groove in the top to secure the string to.
Disclaimer: Muddy Faces cannot take any responsibility for accidents or damage that occurs as a result of following this activity.You are responsible for making sure the activity is conducted safely.