Case study: mud patch at a primary school in NI
Case study: mud patch at a primary school in NI
Creating and maintaining a muddy digging patch was a priority at this newly-built primary school.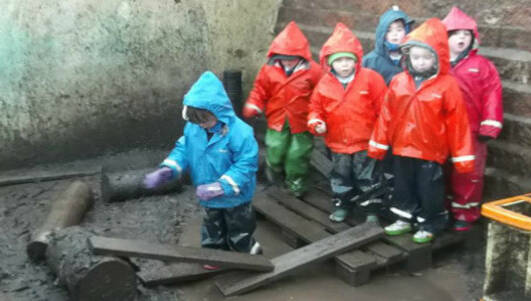 Introduction
Mud Pit at Windmill Integrated Primary School, Northern Ireland:
Age of children: 3 & 4 years
Author Kierna Corr - Northern Ireland Representative for the World Forum of Early Care & Education
Website: nosuchthingasbadweather.blogspot.com
Twitter: @CiarnaC. Facebook page: Learning for Life
Useful items from our shop
Item available from our shop
Environmental Considerations
Consider the environmental impact of preparing, carrying out & completing this activity. Could this impact be reduced? Specific considerations for this activity could include:
Health & Safety Considerations
Follow your usual operating procedures and carry out appropriate risk benefit assessments.
Some considerations particular to this activity include:
This activity has been provided by

When we moved into our new purpose built school in 2006 I had expected to have soil with grass seed & had talked to the children about being able to dig in the mud. I had them all bring in a pair of wellies to keep in school.
So I was actually disappointed when the architect surprised us by providing roll out, instant grass instead. As you can imagine the children were upset too! So we decided to set aside a part of the grass area as a digging patch – this was no easy feat for the children as it took a lot of digging to break through the net that the roll out grass comes in.
However within a few days they had created a large rectangular area where they could dig away. This 'mud patch' grows & shrinks throughout the year, depending on the weather etc. Every September it has to be re-dug over by a whole new set of children as it goes wild over the two month summer break.
The children are settled into nursery in two small groups of thirteen & this four-week settling in period provides a perfect opportunity for the parents to see how much fun the children have in the mud patch.
We ask the children to wear their 'rain gear' (waterproof clothing) when in the mud patch so the parents have no problem with them getting muddy & dirty as they know their own clothes will be totally protected.
We do find that the mud patch is usually most popular early in the school year when it is obviously a novelty to have such freedom to dig & get muddy, and also when the weather is wetter thereby providing deeper mud!
For anyone thinking of introducing a digging area or mud patch to their playground, I would advise them to go ahead & do it, The children will have so much fun in there – you'll wonder why you didn't have one from the start.
Disclaimer: Muddy Faces cannot take any responsibility for accidents or damage that occurs as a result of following this activity.You are responsible for making sure the activity is conducted safely.