Case study: mud play opportunities with an independent childminder
Case study: mud play opportunities with an independent childminder
Clothes will get muddy - if parents know what to expect they can bring what is needed.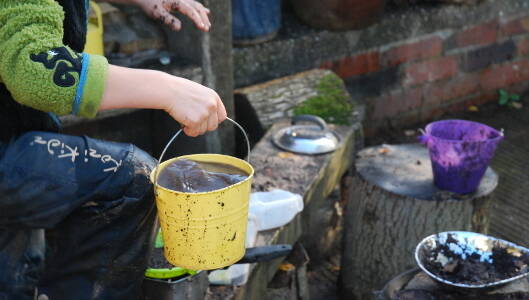 Introduction
Tori's Childcare, Devizes, Wiltshire:
Victoria Eardley-Ford is an independent childminder in Devizes. Tori's received an 'Outstanding' in their Ofsted inspection in March 2014.
What you'll need
mud
children
change of clothes
This activity has been provided by

Useful items from our shop
Item available from our shop
Environmental Considerations
Consider the environmental impact of preparing, carrying out & completing this activity. Could this impact be reduced? Specific considerations for this activity could include:
Health & Safety Considerations
Follow your usual operating procedures and carry out appropriate risk benefit assessments.
Some considerations particular to this activity include:
"What I observe most around our mud kitchen is how engaged the children are. There is no flitting from one activity to another. There is so much purpose in their 'work' so much determination to fill their teapot right to the very top, Sometimes poring it out over their toes just to be able to start again.
The pump is a great addition to our mud kitchen. It doesn't take long for each child to work out how to operate the pump. Pulling and pushing it back and forth with enough 'oomph' to get the water through the pipe up to the top of the water wall. They are so thrilled to watch the water trickle down through each drain pipe and are ready with their jug to catch the first drop.
We are often barefoot in the garden; you can't beat the feel of fresh lawn between your toes. I've also learnt over the years that toes wash and dry a lot quicker than a pair of Clark's finest. I see it as a good day if I have to wash my own black feet before a school pick up.
However new mummy syndrome was something I had forgotten about. The look of dismay when mummy picks up her little one at the end of the day - their brand new outfit was not a practical choice for our day exploring the properties of mud and water.
Parents and I have now come to compromise - children come to Tori's dressed ready to play and if we go out in public then I'm happy to change their outfit.
I share lots of photos to parents throughout the day - this shows the parents all the new skills their child is learning and how content their child is when they are allowed to just be…"
Disclaimer: Muddy Faces cannot take any responsibility for accidents or damage that occurs as a result of following this activity.You are responsible for making sure the activity is conducted safely.