Case study: mud kitchen at Ashton Keynes Preschool
Case study: mud kitchen at Ashton Keynes Preschool
With inspiration & the confidence to ask for support & donations, setting up a mud kitchen can be simple to do.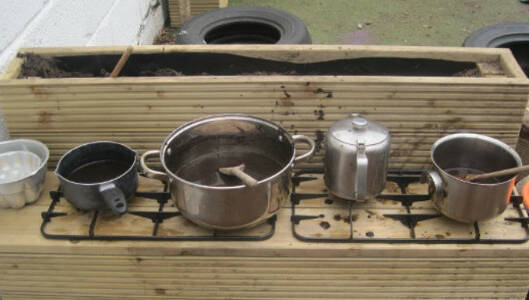 Introduction
Ashton Keynes Preschool, Wiltshire:
"We are a village preschool taking up to 18 children a session, between the ages of 2yrs 6mths to 5yrs. The children who attend are mostly from Ashton Keynes, with some coming from the surrounding villages."

Case study written by Danielle Seatter, preschool leader.
What you'll need
mud
children
pots, pans & kitchen materials
This activity has been provided by

Useful items from our shop
Item available from our shop
Environmental Considerations
Consider the environmental impact of preparing, carrying out & completing this activity. Could this impact be reduced? Specific considerations for this activity could include:
Health & Safety Considerations
Follow your usual operating procedures and carry out appropriate risk benefit assessments.
Some considerations particular to this activity include: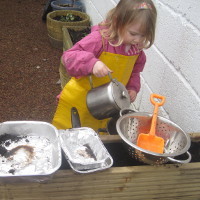 "Having recently developed our garden area, we had been looking for ways in which the children could mud play in the new areas, as this was a favourite activity.
Our Early Years Advisory Teacher Jo Mawer introduced us to 'mud kitchens' and we were all hooked from then! We did some research and asked around for old cooker parts, and pots and pans, to add to our spoons and other utensils - to the delight of the children, who instantly accessed the kitchen and have been budding chefs ever since - making all sorts of baked items, meals and magic potions for us to try!
The big photo at the top is the newly-installed kitchen before the children had access.
The children love exploring movement of water in particular, and have been adding this to the mud - developing their understanding of mixing materials and the properties of materials.
The children 'wash up' at the end of the sessions which they love.
Other than that, just providing handwash water outdoors helps children to keep themselves clean independently and we have a water butt which they also love to use!
Tips:
We initially introduced the idea to parents using a photo on our Facebook page and we got really positive responses to it. We do reinforce messy play to our parents and will be running a parental workshop about it this term to show parents the value of it.
It only took us a week to get our mud kitchen up and running as we were lucky to be given the cooker parts and pots and pans from a local scrap metal business, always worth asking!
Disclaimer: Muddy Faces cannot take any responsibility for accidents or damage that occurs as a result of following this activity.You are responsible for making sure the activity is conducted safely.