Case study: Mud Day celebrations at multiple venues in Bradford
Case study: Mud Day celebrations at multiple venues in Bradford
Communication and compromise can lead to a successful mud event bringing together a range of settings.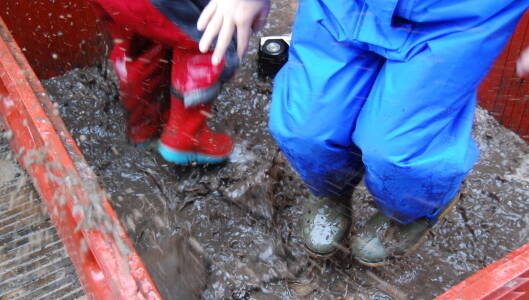 Introduction
SureStart BHT Bradford, West, Yorkshire:
Paul Smith (EYP & CPD coordinator) describes how he instigated Mud Day celebrations at five SureStart children's centres and nursery settings across south Bradford.
What you'll need
mud
children
inflatable paddling pools
This activity has been provided by

Useful items from our shop
Item available from our shop
Environmental Considerations
Consider the environmental impact of preparing, carrying out & completing this activity. Could this impact be reduced? Specific considerations for this activity could include:
Health & Safety Considerations
Follow your usual operating procedures and carry out appropriate risk benefit assessments.
Some considerations particular to this activity include:
"Whilst reading about Mud Day for the first time my thoughts quickly drifted to practitioners' reactions i.e.
"…the parents will never go for it! Who'll be responsible? Imagine the carnage!!"
and other such barriers; quite easy to give up at that point isn't it? But I chose to press on…
My imaginings quickly came true and after presenting the idea and a poster to our early years steering group I was faced with the barrage of questions I'd predicted. After much discussion and positive solution focussing we agreed that Mud Day should be celebrated in various ways across our five venues. Hooray.
Various compromises had to be made to alleviate concerns – mainly around health & safety.
So lots of top-soil was bought in so as not to churn up existing parts of the gardens containing possibly more toxins than we'd have liked; and some cheap inflatable paddling pools were provided for those settings that requested it. One group had no access to the outdoors so these proved invaluable.
Various other tools were recommended for mud kitchen activities and extracts from the Muddy Faces Mud Kitchen book were posted around the venues. The rest was left to nature!
Needless to say, Mud Day is now on our yearly planner across all of our centres, and hopefully will develop each year as practitioners become closer to the idea of mud as a great resource. I also hope to see Mud Day to continue to grow across the Early Years sector and that all settings come to accept it."
Here are some of the comments from those who took part:
"Hi Paul, the mud day went really well, the children really enjoyed it and it was great FUN for all of us. Our garden came in handy as it is already muddy!" Angela, EY practitioner
"Most of the children giggled so much as they played [with the mud]" Parent observer
"I loved making mud footprints on the stone floor." Kaiden aged 5
"It's all squishy!!" Josh aged 4
"I'm painting myself." Chloe aged 8
"I liked it when I throw mud, I think it was the greatest day." Bradley aged 7
"I loved mud day, I got to get messy and no one could say anything!" Harley aged 6
"It was so much fun as it got everywhere!" Cody aged 6
"I liked having mud fights" Nyoni aged 5
"I enjoyed seeing each child get messy and not worry about what anyone would say." Bill – EY practitioner
"I loved the smile on the children's faces and using the resource in different ways." Katie – EY practitioner
"I really loved the fact that the children had a chance to explore the mud in different ways! It gave us the chance to use the mud as a resource and implement this in various areas. Each child reacted to the mud in all sorts of ways, this was nice to see, and some children even came out of their comfort zone to explore the activity" Rachael - EY practitioner
"I loved the chance to inform parents of how mess and mud is also an important part of growing, exploring and developing." Rachel - EY practitioner
Disclaimer: Muddy Faces cannot take any responsibility for accidents or damage that occurs as a result of following this activity.You are responsible for making sure the activity is conducted safely.