Wild garlic pesto
Super easy to make and super strong!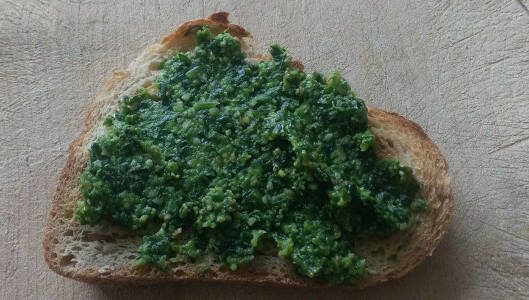 Introduction
Another tasty wild garlic recipe, the wild garlic butter is good but this pesto recipe has some kick to it!
Key Features
Age Range

All Ages

Duration

Less than an hour

Location

Anywhere

Season

Spring

Time of Day

Anytime

Categories:

Food Outdoors
foraging

Useful items from our shop
Item available from our shop
Environmental Considerations
Consider the environmental impact of preparing, carrying out & completing this activity. Could this impact be reduced? Specific considerations for this activity could include:
Health & Safety Considerations
Follow your usual operating procedures and carry out appropriate risk benefit assessments.
Some considerations particular to this activity include:
foraging tips - identifying wild garlic (determine by smell that it isn't Lily of the valley, which is poisonous – the leaves are similar when not in flower)
What you'll need
food processor or pestle & mortar
wild garlic leaves - approx. 100g
nuts - approx. 50g (traditional pesto uses pine nuts, try it yourself with a variety of nuts and see what you prefer)
parmesan cheese - 50g approx.
olive oil/lemon juice/ salt & pepper
This activity has been provided by

Identification:
Wild garlic grows in woodlands and is often found in large patches. The leaves are large and flat and if you rub them between your thumb and forefinger you will get a hit of the pungent garlic smell. The smell is important – Lily of the Valley leaves look similar when not in flower, but are poisonous.
If the wild garlic isn't yet in flower, if you peek amongst the leaves you should see the flower head (middle image).
The wild garlic flower is a small single white head on top of the stalk.
Method: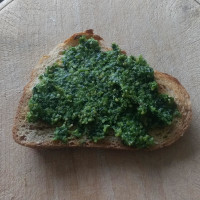 Blitz it all the ingredients up in a food processor (or similar) and season – done!
Delicious on a slice of toast, campfire bread or a cracker, add to pasta or pizza, flavour some soup – if you like it you'll find a way of using it!
Take it further: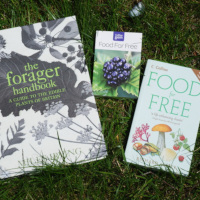 If you are interested in foraging check out our book selection.
Disclaimer: Muddy Faces cannot take any responsibility for accidents or damage that occurs as a result of following this activity.You are responsible for making sure the activity is conducted safely.