Grinding flour
A great way to stimulate conversation about where our food comes from & how much wheat would make enough flour.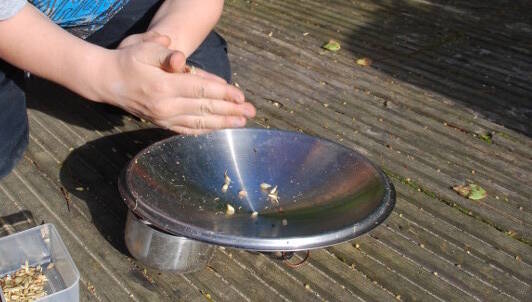 Introduction
In the garden we found some wheat ears growing randomly under the cherry tree. The children were intrigued to know what they were and where they had come from. Once they discovered they were used to make flour, they wanted to know how, what, where and when. So the experimenting started…
What you'll need
some ears of wheat
a couple of large falt stones (or a pestle and mortar)
This activity has been provided by

Useful items from our shop
Item available from our shop
Environmental Considerations
Consider the environmental impact of preparing, carrying out & completing this activity. Could this impact be reduced? Specific considerations for this activity could include:
collecting natural materials

Health & Safety Considerations
Follow your usual operating procedures and carry out appropriate risk benefit assessments.
Some considerations particular to this activity include:
collecting natural materials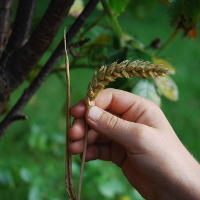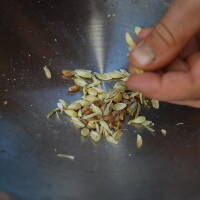 Step #1

Wheat from the chaff

First we used an upside-down saucepan lid to help us separate the wheat from the chaff. The wheat ears were rubbed in our hands allowing the grains to drop into the lid.

The wind was not strong enough to blow the chaff away from the wheat. So much of it was separated by hand-picking out the small pieces of wheat.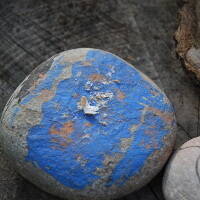 Step #2

Grinding the wheat

The grains were placed on a flat stone and another flat stone was used to press down on it, to crush it, exposing the white inside of the grain. This process was then repeated with more than one piece of wheat in between to be crushed at the same time.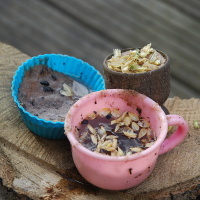 After all that hard work it was time for a break and a lovely cup of tea.
The husks were collected and contributed to the brew wonderfully.
Take it further: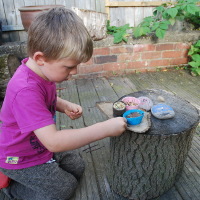 try going on a hunt for different types of seeds and grains, and try to crush them with the stone to see what happens.
Disclaimer: Muddy Faces cannot take any responsibility for accidents or damage that occurs as a result of following this activity.You are responsible for making sure the activity is conducted safely.