Snow painting
A simple, effective and enjoyable way to get creative outdoors in the winter weather.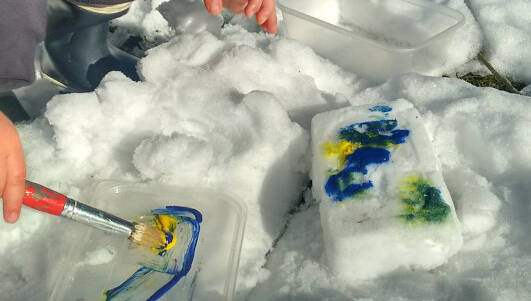 Introduction
This is such a simple activity and snow is a wonderful medium to paint on. Watch as the pigment seeps and spreads into the snow... perfect for large scale creativity!

---
* Muddy Faces actively promotes child-led outdoor play & learning. We recognise and believe in the curiosity that children have and their drive to explore and discover. We hope that you will bear this in mind when considering more prescribed activities like this one – often much more creative ideas will occur if resources are simply provided and children are given the time and space to explore independently.
Useful items from our shop
Item available from our shop
Environmental Considerations
Consider the environmental impact of preparing, carrying out & completing this activity. Could this impact be reduced? Specific considerations for this activity could include:
paint residue after snow has melted (use non-toxic or natural dye)
Health & Safety Considerations
Follow your usual operating procedures and carry out appropriate risk benefit assessments.
Some considerations particular to this activity include:
appropriate footwear and clothing for snow
use toxic free paint
What you'll need
lovely fresh snow!
non-toxic water-soluble paints
paint brushes/spray bottles
containers
plate/tub (to use a palette)
This activity has been provided by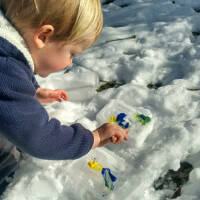 Step #1
Gather your paints, tubs, brushes and sponges and get creative!
Below we're offering some suggestions but children will find their own variations.
Experiment with mark making directly onto the snow:

paint
flick
spray
enjoy colour mixing and watch the paint seep into the snow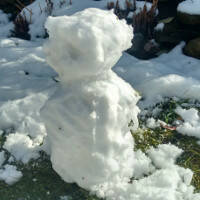 Step #2
Get 3D!
create a 3D canvas to paint on by making a snow sculpture
paint the inside of a tub, pack with snow, then turn out like a sandcastle!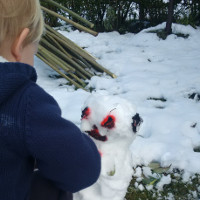 then paint on it – decorate it as you wish!
Take it further:
have a go at making ice cubes out of poster paint and use these outside to paint on rolls of paper
smoosh the paint into the snow and see what happens to the colours
bring the snow 'canvas' inside (in a container or tray) and watch the 'painting' melt
Disclaimer: Muddy Faces cannot take any responsibility for accidents or damage that occurs as a result of following this activity.You are responsible for making sure the activity is conducted safely.