Early Years Woodwork Tool Set
Early Years Woodwork Tool Set
A comprehensive set of woodworking tools recommended by Pete Moorhouse of Irresistible Learning, specialist in early years tool training.
We have woodworking tips and activity ideas in our Outdoor hub.
Please see below for the full contents of this set.
NOTE: This set does not come with screws, nails or wood and Outdoor Woodworking Bench shown in this image and can be purchased separately here.

£249.99 exVAT
£299.99 incVAT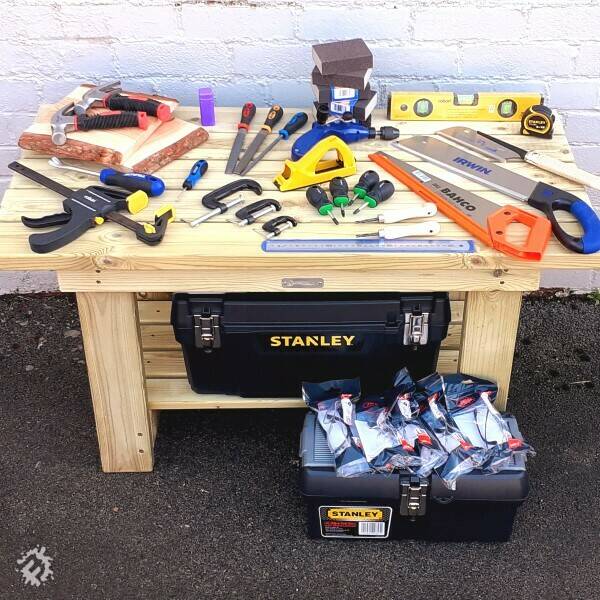 Additional Information
This set contains the following items:
5x Junior Safety Glasses
1x Mini Dozuki Pull Saw
1x Pull Saw
1x Hand Saw
2x Ball Hammer
2x Claw Hammer
1x Tack Lifter
1x Pistol Grip Hand Drill
1x 5mm Drill Bits (pack of 10)
1x Pocket Tape Measure
1x Metal Ruler
1x Spirit Level
4x Stubby Pozi Screwdriver
1x Bradawl
2x Stubby Palm Drill
1x G-Clamps (set of 3)
1x Rapid Bar Clamp
1x Flat Rasp
1x Round Rasp
1x Half-round Rasp
1x Surform Block Plane
3x Sanding Block (Medium/Fine)
2x Sanding Block (Course/Medium)
2x Wooden Board
1x 51cm Tool Box
1x 41cm Tool Box
NOTE: On occasions, the contents may vary slightly to suit stock levels and products will be replaced with similar items.
Some Muddy Faces Ideas
Related Products