Guide to drill bits
The common types of drill bit, what we recommend & how to fit a drill bit into a rotary hand drill.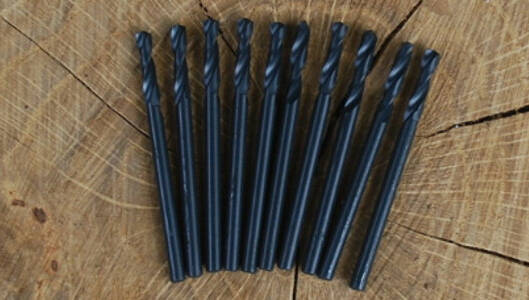 Introduction
What is a drill bit?
A drill bit is a metal cutting tool that fits into a drill (drilling machine) to make a cylindrical hole. Drill bits come in many shapes, sizes and with different coatings. Some bits are manufactured specifically for wood, metal or masonry and some are for universal use.
Most bits have a circular cross section, but some have a non-circular cross section, like the auger bit (see below).
What you'll need
a rotary hand drill
drill bits
This activity has been provided by

Useful items from our shop
Item available from our shop
Environmental Considerations
Consider the environmental impact of preparing, carrying out & completing this activity. Could this impact be reduced? Specific considerations for this activity could include:
Health & Safety Considerations
Follow your usual operating procedures and carry out appropriate risk benefit assessments.
Some considerations particular to this activity include: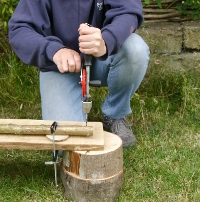 Which bit to use?:
When working with hand tools with groups, we often recommend a HSS universal drill bit rather than a wood (lip and spur) drill bit.
The lip and spur drill bit has a very effective cutting action which is good for drilling wood with an electric hand drill, or for a very competent hand drill user. The lip and spur drill bit needs to turn at speed – if not it is likely to cut into the wood and jam. Once it is jammed it can be difficult to release it from the wood.
The HSS/general bit does not have such an effective cut – it has more of an attrition action, which means you need to drill for longer, but it is more tolerant of slower and variable drilling and is a lot less likely to dig in when working with slower hand tools.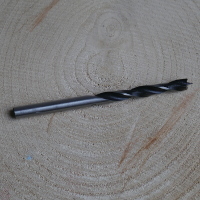 Wood bit:
Wood bits tend to have a sharp point at the end (the point is sometimes referred to as a brad point or lip and spur). The point helps to keep the bit in position when starting off drilling.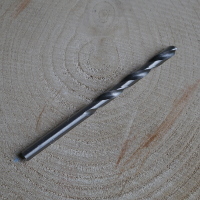 Metal bit:
A metal bit has a shallow point at the end. It is usually manufactured with stronger steel and coatings. A metal bit can be used to drill wood.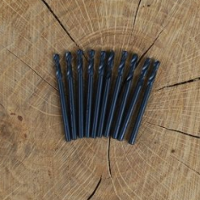 Universal bit:
A universal bit has a shallow point at the end and is a general-purpose bit that can be used in a variety of materials including wood.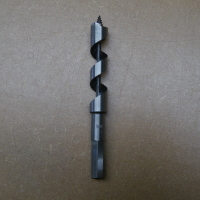 Auger bit:


An auger bit is commonly used in a brace hand drill (Carpenter's brace) and usually has a non-circular cross section at the base. An auger bit has a deeper spiral flute which is more effective at chip removal. They tend to come in larger sizes for drilling wider and deeper holes.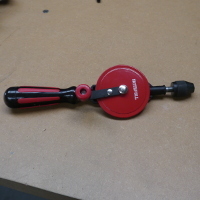 How to fit a drill bit:
Have your hand drill and bit ready to use. It is advisable to be well practised before working with a group.
The drill in this photograph is a single pinion rotary hand drill.
At the opposite end from the main handle of the drill is a metal part called a chuck, and inside the chuck are jaws. The jaws grip the drill bit and are controlled by turning the chuck.
On most hand drills the chuck can only be tightened to hand-tightness, there is nowhere to insert an Allen key to make the jaws tighter.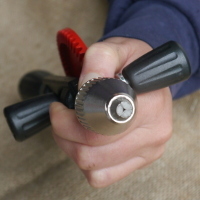 Jaws inside chuck - closed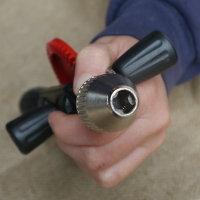 Jaws inside chuck - open
This is the position the jaws need to be in to fit the drill bit.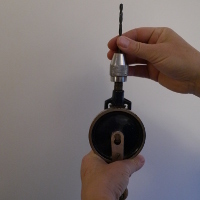 Fitting the drill bit into the jaws:
To open and shut the jaws, hold the drill in your non-dominant hand, gripping the main handle and turning handle together. Turn the chuck clockwise to tighten the jaws and anti-clockwise to open the jaws.
Hold the drill in a vertical position and estimate the size of the opening of the jaws to roughly fit the drill bit. If the opening is too wide the drill bit will be difficult to hold in place at the same time as you need your hand to turn the chuck.
Place the bit into the jaws and make sure the bit is in straight. Keep the non-dominant hand gripping the handle and turning handle; this allows you to turn the chuck and tighten it. Turn the chuck clockwise until tight. Check the jaws are gripping the shaft of the bit and not pressing on the blade of the bit.
(When the jaws grip ensure that you hold the turning handle to be able to tighten the bit sufficiently).
Removing a drill bit:
To remove a drill bit, hold the handle and turning handle and turn the chuck anti-clockwise.
Take it further:
once you have inserted your bit securely, practise drilling into some simple pieces. Visit our drill a wooden disc activity for more details on how to use a hand drill.
don't forget to clamp your work piece and drill vertically down
Disclaimer: Muddy Faces cannot take any responsibility for accidents or damage that occurs as a result of following this activity.You are responsible for making sure the activity is conducted safely.
Key Features
Age Range 3+
Duration Less than an hour
Location Anywhere
Season Any
Time of Day Anytime