Books & further information
Books & further information
Section 10 of the Making a Mud Kitchen book.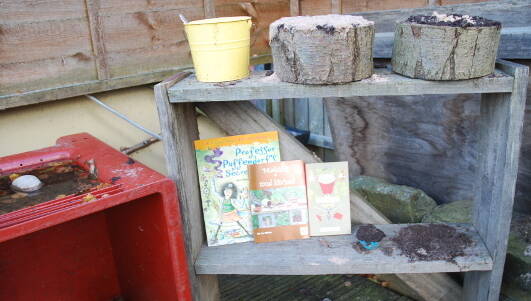 Introduction
Some of these titles are quite hard to find – we've highlighted those that are available from the Muddy Faces publications section. Of course there are loads of other great books available from Muddy Faces too 🙂
What you'll need
mud
children
somewhere to read
This activity has been provided by

Useful items from our shop
Item available from our shop
Environmental Considerations
Consider the environmental impact of preparing, carrying out & completing this activity. Could this impact be reduced? Specific considerations for this activity could include:
Health & Safety Considerations
Follow your usual operating procedures and carry out appropriate risk benefit assessments.
Some considerations particular to this activity include:
Mud Itself:
Mudlarks in Out and About by Shirley Hughes (Walker Books, 2005) ISBN 1-84428-473-5
Mud Pie Annie by Sue Buchanan and Dana Shafer (Zonder Kids, 2001) ISBN 10-0-310-70816-8
Mud by Mary Lyn Ray & Lauren Stringer (Voyager Books, 1996) ISBN 978-0-15-202461-1
Mud Puddle by Robert Munsch & Sami Suomalainen(Annick, 2008) ISBN 1-55037-468-0
Princess Pigsty by Cornelia Funke & Kerten Meyer (Chicken House, 2007) ISBN 978-1-905294-32-9
Joe's Café by Rose Impey & Sue Porter (Orchard Books, 1993) ISBN 1-85213-563-8
The Mud Family by Betsy James & Paul Morin (Oxford University Press, 1994) ISBN 0-19-512479-0
Potions and Spells:
The Slimy Book by Babette Cole (Red Fox, 2003) ISBN 978-0-099-43426-9
Spells by Emily Gravett (Macmillan Children's Books, 2008) ISBN 978-0-230-01492-3
Professor Puffendorf's Secret Potions by Robin Tzannes & Korky Paul (Oxford University Press, 1992) ISBN 978-0-19-272712-1
Memory Bottles by Beth Shosan & Katie Pamment (Meadowside Children's Books, 2004) ISBN 1-904511-62-7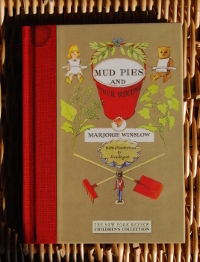 Cooking with Mud:
Goldilocks and the Three Bears by Nicola Baxter & Liz Pichon (Ladybird Books) ISBN 0-7214-9733-0
Pumpkin Soup by Helen Cooper (Picture Corgi Books, 1999) ISBN 0-552-54510-4
Delicious by Helen Cooper (Doubleday, 2006) ISBN 0-385-60498-X
Stone Soup by Jess Stockham (Child's Play, 2006) ISBN 978-1-84643-021-3
The Essential Soup Cookbook (The Australian Women's Weekly) ISBN 186396192-5
Mud Pies and Other Recipes by Marjorie Winslow (The New York Review of Books, 1998 – originally 1961) ISBN 978-1-59017-368-8
The Australian Women's Weekly range of small, full colour illustrated recipe books: Café Cakes; Cheesecakes, Pavlovas & Trifles; Jams & Jellies; Casseroles
Ice Cream Machine Book: frozen delights ice creams, sorbets, sauces and desserts by Rosemary Moon (Apple Press 2006) ISBN 978-1845430993
Fantastic Cocktails & Mixed Drinks, Family Circle (Murdock Books) ISBN 0-86411-383-8
Pancakes, Pancakes by Eric Carle(Aladdin Paperbacks, 1991) ISBN 978-0-689-82246-9
Mama Panya's Pancake: a village tale from Kenya by Mary & Rich Chamberlin & Julia Cairns (Barefoot Books, 2006) ISBN 1-905236-63-8
Pie in the Sky by Lois Ehlert (Harcourt Inc, 2004) ISBN 0-15-216584-3
Further information
There are plenty more articles, research and more on our mud page.
Disclaimer: Muddy Faces cannot take any responsibility for accidents or damage that occurs as a result of following this activity.You are responsible for making sure the activity is conducted safely.
Key Features
Age Range All Ages
Duration Less than an hour
Location Anywhere
Season Any
Time of Day Anytime
Categories: Outdoor Play