Earthworm Watch
Looking for worms as part of a citizen science experiment.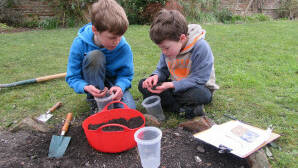 Introduction
"Join fellow scientists across the country by conducting your own earthworm survey to help map where they are, better understand the vital benefits they bring, and ultimately, help protect them."
What you'll need
buckets
towel
large container/tub
1 litre bottle to fill with water (for dissolving mustard in)
mustard powder
vinegar
printed copy of worm survey (download from website)
Lee Jowett

Useful items from our shop
Item available from our shop
Environmental Considerations
Consider the environmental impact of preparing, carrying out & completing this activity. Could this impact be reduced? Specific considerations for this activity could include:
care of worm
leave no trace
Health & Safety Considerations
Follow your usual operating procedures and carry out appropriate risk benefit assessments.
Some considerations particular to this activity include:
hand washing
choice of digging site

Method:
The worm survey takes under an hour and involves digging two small holes to count earthworms and measure soil properties.
The survey should be done in spring or autumn, which is when earthworms are most active.
If you have your own mustard powder and vinegar available, you can download the Earthworm instruction booklet and Soil Chart.
Or you can order a free pack with all the materials you'll need plus a step-by-step guide here.
More information from the Earthworm Watch website at www.earthwormwatch.org.
Disclaimer: Muddy Faces cannot take any responsibility for accidents or damage that occurs as a result of following this activity.You are responsible for making sure the activity is conducted safely.