Make a clock
A really simple idea to create a bright and tactile clock.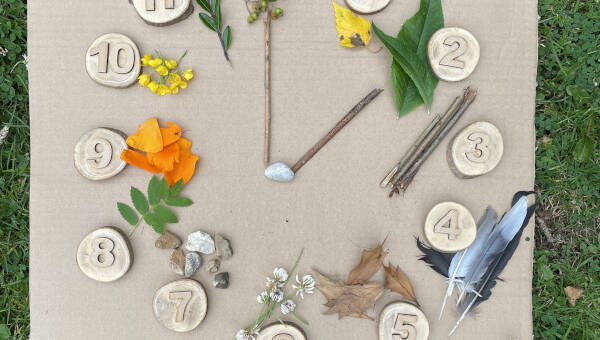 Introduction
An activity that develops the mathematical skills of number recognition, 1:1 correspondence and telling the time. Perfect for outdoors and exploring the world collecting different natural materials.
With thanks to Deborah Simpson of Carryduff Playgroup, Belfast for this activity.
What you'll need
natural materials
discs with numbers
plain discs
mark making resources
Deborah Simpson of Carryduff Playgroup, Belfast

Useful items from our shop
Item available from our shop
Environmental Considerations
Consider the environmental impact of preparing, carrying out & completing this activity. Could this impact be reduced? Specific considerations for this activity could include:
Health & Safety Considerations
Follow your usual operating procedures and carry out appropriate risk benefit assessments.
Some considerations particular to this activity include:
Step #1
Set up the numbers and find some sticks to create the clock face and hands.
Step #2
Scavenger hunt to find natural materials for each number on the clock face and match number of items to the numeral.
Disclaimer: Muddy Faces cannot take any responsibility for accidents or damage that occurs as a result of following this activity.You are responsible for making sure the activity is conducted safely.