Clay leaf wrapped balls
Create natural balls wrapped in leaves.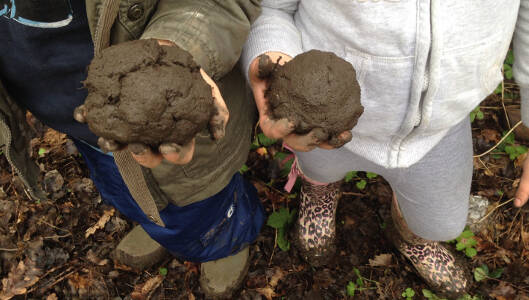 Introduction
Super fun, super simple and super muddy!
---

* Muddy Faces actively promotes child-led outdoor play & learning. We recognise and believe in the curiosity that children have and their drive to explore and discover. We hope that you will bear this in mind when considering more prescribed activities like this one – often much more creative ideas will occur if resources are simply provided and children are given the time and space to explore independently.
What you'll need
clay / mud
natural materials
Vicki Stewart - Brightwood Training

Useful items from our shop
Item available from our shop
Environmental Considerations
Consider the environmental impact of preparing, carrying out & completing this activity. Could this impact be reduced? Specific considerations for this activity could include:
Health & Safety Considerations
Follow your usual operating procedures and carry out appropriate risk benefit assessments.
Some considerations particular to this activity include:
Step #1
Form a clay/mud ball.
Step #2
Press leaves, petals or other natural materials into the ball to form a pattern, complete coverage or design.

Take it further:
experiment with different size balls
experiment with different designs
Can you make a set?
leave the balls to dry out – what happens to the clay? And to the decorations?
Disclaimer: Muddy Faces cannot take any responsibility for accidents or damage that occurs as a result of following this activity.You are responsible for making sure the activity is conducted safely.