Sensory Mood Light Ball
This ultra-strong illuminated hollow sphere can be used indoors and outside. It provides a mood inducing light by using a remote control.
£76.99 exVAT
£92.39 incVAT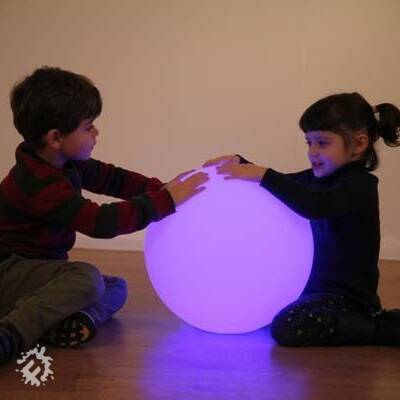 Additional Information
You can choose one of 16 different colours or set to fade smoothly through the entire spectrum of shades from a cool ultra-violet to a warm red. Their appearance is mesmeric and the colour spreads evenly throughout the whole shape.
All shapes are powered by safe low voltage mains power supplies and come with base station recharge units*. With a 6 hour charge cycle they can be lifted off their base station* and used wherever required providing an average of 10 hours of light inside or out.
The units are water resistant rated IP65 and are tested up to 80Kg of load.
Supports the following areas of learning:
Personal Development - sensory
Understanding the World - light & colour
Personal Development - collaborative play
Enabling Environment - practical resources.
some Muddy Faces Ideas
Related Products