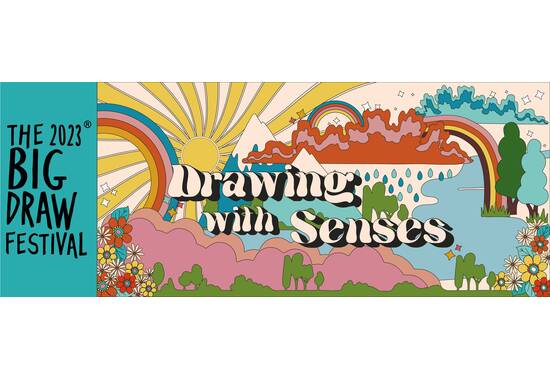 Event Details
The Big Draw lasts for the whole of the month of October every year.
The Big Draw Festival 2023: Drawing with Senses
The 2023 Big Draw Festival theme #DrawingwithSenses changes the focus from external to internal, exploring the way we personally process the world and internalise our experiences through our senses. This is a great year to look at the 5 basic senses: Touch, Sight, Sound, Taste and Smell and experiment with these and those you are less familiar with to transpose your experiences into creative work and drawings in 2023.
#DRAWINGWITHSENSES #BDF2023 #TheBigDraw
***
'The Big Draw is the world's biggest drawing festival and a charity dedicated to promoting visual literacy. We're calling the whole of the UK and the world to pick up a pencil, grab a paintbrush, make a collage, create an animation - anything you like - because we want to get everyone drawing! Get involved.
Founded in 2000, The Big Draw (formally The Campaign for Drawing) is an arts education charity that promotes visual literacy and the universal language of drawing as a tool for learning, expression and invention.'