Just Do It! Guidelines for Creating a Mud Kitchen
Just Do It! Guidelines for Creating a Mud Kitchen
Section 1 of the Making a Mud Kitchen book.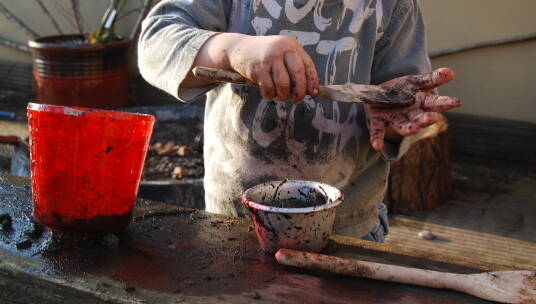 Introduction
There is little more important in our physical world than earth and water and they are truly intriguing things, especially when they interact. Mixing soil, water and a range of other natural materials has a foundational role in early childhood which has deep importance and endless possibilities for well-being, development and learning. The breadth and depth of what these experiences offer young children is truly remarkable.
What you'll need
mud
children
pots, spoons & other kitchen items
This activity has been provided by

Useful items from our shop
Item available from our shop
Environmental Considerations
Consider the environmental impact of preparing, carrying out & completing this activity. Could this impact be reduced? Specific considerations for this activity could include:
Health & Safety Considerations
Follow your usual operating procedures and carry out appropriate risk benefit assessments.
Some considerations particular to this activity include:
Mud kitchens provide something quite different to a soil digging patch, whilst also being much more easily managed. A mud kitchen includes elements of the much-loved domestic corner and cooking from indoor play, which are then hugely enriched through the special nature of being outside. Mud kitchens work well all year round, and need to be seen as a core element of continuous provision outside.
Mud kitchens do not need to be fancy and certainly do not need to cost much. There is nothing to beat the simplicity and character of creating your own unique kitchen from scrounged, begged and discovered items. And remember, the best mud kitchens are made in collaboration with the children who will be using them.
Disclaimer: Muddy Faces cannot take any responsibility for accidents or damage that occurs as a result of following this activity.You are responsible for making sure the activity is conducted safely.