Choose the place
Section 2 of the Making a Mud Kitchen book.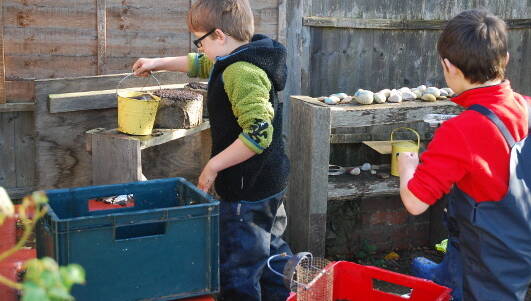 Introduction
What you'll need
mud
children
a place to set up
This activity has been provided by

Useful items from our shop
Item available from our shop
Environmental Considerations
Consider the environmental impact of preparing, carrying out & completing this activity. Could this impact be reduced? Specific considerations for this activity could include:
Health & Safety Considerations
Follow your usual operating procedures and carry out appropriate risk benefit assessments.
Some considerations particular to this activity include:
Choose the Place:
The kitchen needs a handy and ample supply of the basic materials of sand and/or mud.
Offering both provides contrast in colour, texture and mixing behaviour – and many more possibilities for imaginations. Being situated near the sand area or mud patch may give the kitchen more context and meaning, but big pots of these basic materials will also be fine, preferably at floor level for ease of access.
Mud kitchens that have walls, fences or other vertical surfaces on one or two sides then have potential for hanging pots and utensils on them or for installing shelving, making it feel more kitchen-like and better to use.
A corner also creates room-like enclosure that feels cosy and safe, which research suggests is good at generating dramatic play in young children.
A water supply is essential, but it does not need to be in the kitchen or even close-by, as children love to fill containers both large and small to transport across to the kitchen for use. Make sure however that there are several types of collecting containers for this activity and an ample (preferably running) water source, such as an outdoor tap, water butt or a large container of water.
Gravel, pebbles and other natural materials are also natural companions for concoction making. If these are not generally available in the outdoor space, then good-sized containers need to be kept topped up for good supplies (consider drainage of these if kept in the open air).
Plant material is also an important ingredient of a good mud kitchen. This can be anywhere – children just need permission to pick and gather – and some agreed boundary rules so that plants can keep supplying! Lots of robust, pickable plants spread around the whole outdoor space are ideal.
One last thought is to locate the kitchen near to compatible activities, such as good places for den play, as these complementary aspects of provision will enhance each other, enriching experience for the children.
Disclaimer: Muddy Faces cannot take any responsibility for accidents or damage that occurs as a result of following this activity.You are responsible for making sure the activity is conducted safely.