Delving into the meanings of mud play
Delving into the meanings of mud play
Section 8 of the Making a Mud Kitchen book.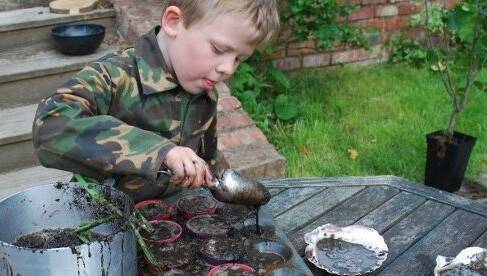 Introduction
This activity has been provided by

Useful items from our shop
Item available from our shop
Environmental Considerations
Consider the environmental impact of preparing, carrying out & completing this activity. Could this impact be reduced? Specific considerations for this activity could include:
Health & Safety Considerations
Follow your usual operating procedures and carry out appropriate risk benefit assessments.
Some considerations particular to this activity include: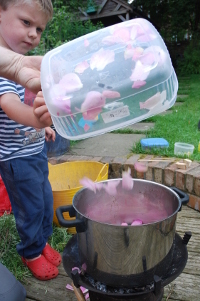 Delving into the meanings of mud play:
Young children are endlessly interested in – and biologically programmed to explore – the stuff of the earth, how materials behave and what they do.
Making connections through discovering and investigating cause and effect is the stuff of brain development and scientific process. Curiosity, fascination and the pleasure of finding thing out are fundamentally important to the human state – being human.
An even more powerful level of experience for the explorer is that they are the one making things happen – giving feelings of control and power, and over time, building a child who has a strong inner sense of agency (which itself is key to well-being and mental health).

The processes of making 'concoctions' brings the worlds of science and art completely together through possibility thinking.
The growth of imagination and creativity happens through building on concrete cause-and-effect experience to posing and predicting 'what if…?' Good scientists do this all the time, as do artists and all other innovators.
Even better, the experience of making concoctions brings the child into the realms of magic and fantasy – reminding us of the ancient fascinations of alchemy.
Disclaimer: Muddy Faces cannot take any responsibility for accidents or damage that occurs as a result of following this activity.You are responsible for making sure the activity is conducted safely.