Case study: mud kitchen & loose parts in a preschool garden
Case study: mud kitchen & loose parts in a preschool garden
A mud kitchen combined with access to nature, a veg patch, and plenty of loose parts, greatly enhances opportunities.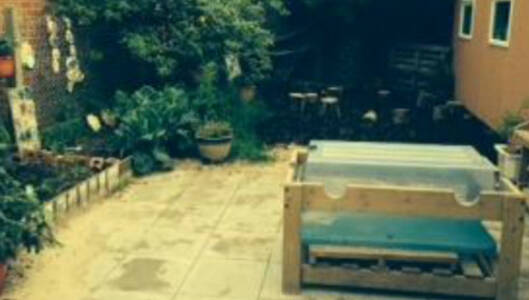 Introduction
Rainbow Early Years, Wiltshire:
Rainbow Early Years operates from a purpose-built classroom located in the grounds of a primary School in Trowbridge, Wiltshire.
Ages: 2-4 years
Author: Jo Clarke, manager
Rainbow Early Years website
What you'll need
mud
children
loose parts
garden with vegetables, herbs etc
This activity has been provided by

Useful items from our shop
Item available from our shop
Environmental Considerations
Consider the environmental impact of preparing, carrying out & completing this activity. Could this impact be reduced? Specific considerations for this activity could include:
Health & Safety Considerations
Follow your usual operating procedures and carry out appropriate risk benefit assessments.
Some considerations particular to this activity include:
We were introduced to the concept of mud kitchens through attending a network meeting & were signposted to Muddy Faces' Making a Mud Kitchen book. As manager, I read it & decided to 'have a go'.
We were already using a turfed sandpit as a digging pit, instead of a surface to play on - as was it's intention by adults!
We gathered the available resources we already had into our small man-made play space, also bringing things from home, donations & purchasing from bargain shops. This was very successful and many children couldn't wait to get outside to play.
We moved into a new building last summer & have now purchased a wooden outdoor kitchen to follow on with this play. Alongside this, a Belfast sink has been placed near the outdoor tap.
In our new garden children have access to herbs, sand, pebbles, mud, grass, plants/shrubs, flowers, vegetables, chalk to mix in the mud kitchen as pies, potions, dinners etc.
We have not had many problems with this as I believe the staff & parents can see how engaged children become in their messy play – one parent has created a mud kitchen in her own garden.
Children explore the area using all their senses during this play. They also have access to loose parts/open ended resources such as: log stumps, decking planks, tyres, real house bricks, hollow wooden blocks, pinecones, bamboo channelling, drainpipes, tubing, hoses, den making kit and boxes.
Children remain engaged when playing and exploring for sustained periods of time, when mixing in the mud kitchen, or finding ways to transport water. They are able to connect with nature by identifying insects, listening and identifying native birds, alongside finding out about the seasons & weather on a daily basis.
An artist who has visited us to create with the children has commented that the children in our setting are like free range chickens!
Disclaimer: Muddy Faces cannot take any responsibility for accidents or damage that occurs as a result of following this activity.You are responsible for making sure the activity is conducted safely.