Case study: celebrating Mud Day at a woodland playgroup in Staffordshire
Case study: celebrating Mud Day at a woodland playgroup in Staffordshire
A woodland play setting, with an established mud kitchen, finds other ways to celebrate & suggests some things to think about.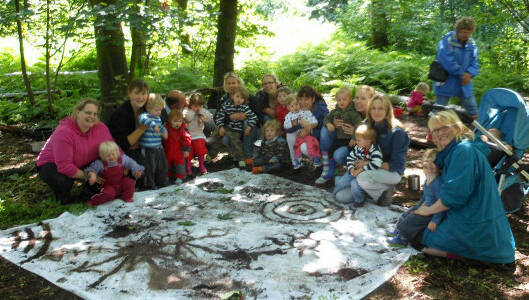 Introduction
Celebrating Mud Day at Tree Tots Woodland Playgroup in Staffordshire:
Age of children: 6 months-4 years
Photos and text copyright Caroline Allen APIOL, BSc (Hons) Director, Forest Schools
practitioner & trainer – Earth Life Company 01543 432038 / 07530 104806
Facebook page: www.facebook.com/treetotswoodlandplaygroup (no longer trading)
Useful items from our shop
Item available from our shop
Environmental Considerations
Consider the environmental impact of preparing, carrying out & completing this activity. Could this impact be reduced? Specific considerations for this activity could include:
Health & Safety Considerations
Follow your usual operating procedures and carry out appropriate risk benefit assessments.
Some considerations particular to this activity include:
What you'll need
mud
children
sheets
change of clothes
This activity has been provided by

Our Mud Day event took place at Tree Tots Woodland Playgroup, in Staffordshire. We run two sessions a week in the woods, as a stay and play session with parents. Our children range from about 6 months to 4 year olds.
The mud kitchen is always in place, so we wanted to do something a bit different for Mud Day. Instead I got a big white sheet and gave the kids free run to mark-make, and place and arrange their muddy potions on the fabric. It was a great success – alongside the cooking and baking of mud pies, soup, dumplings and other delicacies, we experimented with consistency, texture and moisture.
The number of early years skills practised on the day included gross motor of running through a mud pit and leaving wellie marks, hand prints, through to fine motor painting, pouring and manipulation. Creativity was rife, with loads of imaginative play and role play. Even language and numeracy got covered, through talking about the different senses of mud play, drawing shapes and counting how many hand prints there were, how many children – had everyone done one each?
We also built dams in guttering and experimented with how much water it took to wash them away.
Precautions
I am confident that the site is not contaminated with fragments of glass or other waste – this is an obvious hazard to take into account. Soil can be sieved beforehand, or compost used, if in any doubt.
I had already warned parents that we would be celebrating Mud Day so to dress their children accordingly; clothing and the feeling of needing to stay clean can be a huge limitation so get a few warm-up ideas planned to ease children into the zone.
Have spares of everything ready (from home) and buckets/flasks of warm water and soap on hand to rinse off with before sitting in cars or going back into school. Why not have equipment ready for a water fight afterwards? – Rinses children and playground in one.
Disclaimer: Muddy Faces cannot take any responsibility for accidents or damage that occurs as a result of following this activity.You are responsible for making sure the activity is conducted safely.